Camping Sites in County Kerry
Kerry's exceptional coastline is a series of peninsulas that open out into larger bays and give a totally unique feeling to the county, with craggy hills that tumble down into the choppy ocean below, and a remote, untouched aspect to the land.  Read More
Search More Camping Sites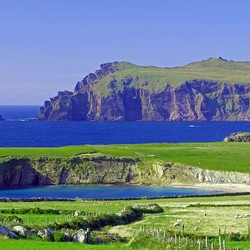 You may have heard of Kerry. Its mountains, lakes and coasts have been the picture-postcard image of Ireland overseas. And while visitors may argue about their favourite towns, everyone falls in love with "The Kingdom". It's just drop-dead gorgeous.  Discover charming towns and villages with brightly painted houses, traditional pubs, colourful shopfronts and endless places to visit in Kerry.
Kerry hosts Ireland's highest mountains, longest walking trails including the Kerry Way, and the oldest National Park (Killarney). It boasts a treasure trove of historic and prehistoric sites and monuments, including the UNESCO World Heritage Site of Skellig Michael. It has a long-established cultural tradition where Irish music, dance, literature, arts and crafts and the Irish language are cherished.   Take a trip around the infamous Ring of Kerry, experience the fun and excitement of Killarney and Tralee or take a trip out to the dramatic Dingle Peninsula.  You will be spoilt for choice.
Take a tour of Kerry's inspirational coastline and stunning national park
County Kerry, IrelandFor anyone that loves the great outdoors, Kerry is a dream destination. This charming county has it all, with truly sublime scenery, exceptionally friendly locals, internationally renowned spas, gorgeous little villages and excellent restaurants.
Kerry's exceptional coastline is a series of peninsulas that open out into larger bays and give a totally unique feeling to the county, with craggy hills that tumble down into the choppy ocean below, and a remote, untouched aspect to the land.
A drive around the Ring of Kerry or the Ring of Beara, which crosses the border into Cork, is an unforgettable way to experience the best that this awe-inspiring landscape has to offer.
But if all that feels like too much hard work, then head to one of the utterly lovely villages like Sneem, Kenmare or Dingle and while your afternoons away eating fresh seafood, drinking creamy pints and listening to some utterly authentic traditional music.
Travelling to Kerry
By Air
Kerry Airport is located 17km from Killarney and 19km from Tralee.  Direct flights operate to Dublin, London, Frankfurt, Berlin, Faro and Alicante.  Cork Airport is 88km from Killarney. Bus and taxi services are available just outside the arrivals area.  Cork Airport offers direct flights from almost 50 destinations around Europe
By Sea
Located just 15km from Cork City centre, the ferry terminal at Cork offers easy access to and from mainland Europe. Brittany Ferries operates a service between Cork-Roscoff (France).
Kerry is also accessible via ferry from Rosslare (257km) and Dublin (300km). Both ports offer daily services between Ireland-UK and services to France and Northern Spain.  The following companies offer ferry services into Ireland – Stena Line, Irish Ferries, P&O Ferries, Kintyre Express, and Isle of Man Steam Packet
By Bus
Kerry has a high quality (and affordable) bus network connecting the county with Dublin, Limerick, Galway, Belfast and many more destinations. Buses usually operate from 6am until midnight.  For further information click here Bus Eireann
By Train
Killarney and Tralee Train Stations offers easy access to the national rail network.  Both are located in the town centres.  There are regular services between Cork and Dublin and regular services throughout the day to Limerick and Galway.  For further information click here Irish Rail
By Car
The road network from Killarney and Tralee to Cork, Limerick, Galway, Waterford, Kilkenny and other great locations is excellent and easily navigable.
Whats to See and Do in Kerry
Gap of Dunloe Tours 
This is more of an adventure than a tour. Combination of a bus to Kate Kearney's Cottage, then a journey of 7 miles/11.2km ahead of you to be taken by Jaunting car through the famous gap, a glaciated valley to Lord Brandon's Cottage before taking a boat trip on the Lakes of Killarney to Ross Castle where a bus will return you to Killarney
Crag Cave 
Ireland's most exciting Showcave discovered in 1983 and thought to be over 1 million years old, located in Castleisland.  Crag Cave is a magical wonderland of stalagmites and stalactites. It is an all-weather visitor attraction.
Eclipse Equestrian and Outdoor Activity Centre, Kenmare
Eclipse Ireland is renowned for its onsite outdoor adventure activities and offers a great experience in horse riding, mud surfing, archery, assault courses, kayaking, orienteering, team task challenges, raft building, cycling, fly fishing
Bowling Buddies, Tralee
A 10-lane Bowling alley and Play Area in Tralee catering for everyone. You will also find Kerry's newest play frame Monkey Paradise. Suitable for 0-10 years Monkey Paradise has a unique structure of crawl tubes, slides, ball pits, bish bash bags, tree houses and the coolest viewing pods, which look over the state-of-the-art bowling lanes.  Also, on-site is a Retro Diner and Arcade machines
Tralee Bay Wetlands Centre 
Tralee Bay Wetlands Eco & Activity Park is situated on the canal and on the estuary of Tralee Bay. This wonderful nature sanctuary has lovely walks around its lakeside and wild gardens for everyone to enjoy.  You will meet ecologists and guides who will introduce you to the wildlife around you, whilst hearing about the natural history and folklore of Kerry. This natural landscape, with special areas of conservation, will enrich your holiday and you will look at the world around you with a greater sense of awe and appreciation. Enjoy the many activities such as pond dipping, learning to climb, pedal boating or just sit and read a book in the Lakeside Café.
Star Outdoors, Kenmare
Star Outdoors is a purpose-built adventure centre for water sports as well as other adventurous pursuits. Pick from an array of activities including The Wild Atlantic Park, Kayaking (including use of their mini water park), a Cruise Trip around Kenmare bay, Crazy Golf, Archery, Paintball, The Gauntlet and Splatball.