Camping Sites in County Armagh
In the historic county of Armagh in Northern Ireland lie some of Ireland's most fascinating sights. The ancient capital of Ulster, Armagh is also known as the City of St Patrick, and was the birthplace of Brian Boru as well as being the ecclesiastical capital of Ireland. Read More
Markethill Road (Moodage Road), Tandragee
Search More Camping Sites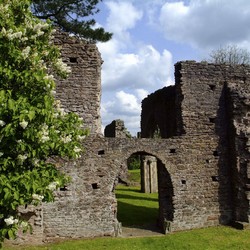 When it comes to camping sites in County Armagh, Northern Ireland's smallest county has plenty to offer. Armagh is known for its big open-hearted nature and welcoming atmosphere, making it a perfect destination for outdoor enthusiasts. From exploring the rich history of Georgian architecture to immersing yourself in Celtic myths and legends at the ancient site of Navan Fort, County Armagh has something for everyone.
Experience the local flavors at one of the leading culinary destinations, where you can taste delicious traditional dishes. Embark on an epic journey to the home of St Patrick and discover the vibrant culture that shapes Armagh's identity. Whether you're seeking wonderful walks, family fun, or time with friends, County Armagh will provide unforgettable experiences.
Modern-day Armagh City is an adventure ground with narrow lanes, hilly streets, and stunning open spaces. On the shores of Lough Neagh, you can explore woodlands, bogs, and orchards, allowing you to reconnect with nature. Don't miss the chance to visit Armagh's orchards and savor the world-leading artisan ciders made from the renowned Bramley Apple. With 6,000 acres of apple trees, the county's love for this fruit is evident.
Travelling to Armagh
By Air
Belfast International Airport and Belfast City Airport are an hour from Armagh.  Dublin Airport is 90 minutes drive from Armagh.  You will find flights from over 100 destinations around Europe, the USA and Middle East into these Airports
By Boat
Regular, scheduled ferry services operate between Belfast and Larne to Great Britain. Dublin Port is 90 minutes drive from Belfast.  Sailings also operate from Fishguard to Rosslare and Liverpool to Dublin.  Brittany Ferries operates a service between Cork-Roscoff (France).  The following companies offer ferry services into Ireland – Stena Line, Irish Ferries, P&O Ferries, Kintyre Express, and Isle of Man Steam Packet 
By Bus
Translink operates the bus service throughout Northern Ireland.  Routes originating from the Republic of Ireland are operated by Bus Eireann.
When camping in County Armagh, there are several attractions you shouldn't miss:
Armagh Observatory & Planetarium
The Armagh Observatory and Planetarium is Northern Ireland's leading astronomical research and education facility. It offers visitors a unique experience.  In the Planetarium's Digital Full Dome Theatre you can sit back, relax and experience the wonders of our Universe. Take a tour of the night sky, and discover how our scientific research has impacted the field of astronomy.
Explore our exhibition area and learn more about the rich heritage of both the Armagh Observatory and the Armagh Planetarium. Look Closer and get to know the depth of our scientific research with hands on activities and workshops. You can also touch Ireland's largest meteorite! Relax and discover the wonders of space in our Sensory Space.
Take a stroll around our Astropark, which is 14 acres of attractive, landscaped grounds. Discover the scale models of the Solar System and the Universe and a wide range of flora and fauna
Discover Armagh city
In the city of Armagh, two magnificent cathedrals gaze at each other across a valley. Hundreds of years ago, this is where St Patrick chose to establish his original church, and ever since Armagh has served as the ecclesiastical centre for the island.
The two cathedrals, one Church of Ireland and one Roman Catholic, are magnificent structures that are well worth a visit – plus, you'll get to enjoy fantastic views over this glorious pocket-sized city.
Navan Centre & Fort
Navan Centre & Fort is a place where myth and reality meet. It is one of Ireland's most famous and important archaeological sites, the legendary Emain Macha. Legends say that Macha, the ancient goddess of war and fertility, scored the earth with her brooch pin and traced the famous outline of this sacred stronghold of the hero Cu Chulainn, home of the famous Red Branch Knights and Ulster Cycle of tales.
Experience life over 2000 years ago, as you walk in the footsteps of warriors to the ancient Navan Fort, site of the great temple of 95BC. Your guide will explain how and why this impressive ceremonial structure was built, as well as highlighting the importance of the surrounding sites in the Navan complex. Immerse yourself in Iron Age life, as you meet the resident Celtic clan & view their period dwelling! During your visit, you may find the Celts regaling you with stories of their past triumphs, cooking, weaving or even preparing their weaponry for battle
Game of Thrones Studio Tour
Located at the authentic filming location of Linen Mill studios the Game of Thrones Studio Tour invites you to step behind the scenes of The Seven Kingdoms and beyond.  Experience the world of Game of Thrones and explore how one of the world's greatest ever TV series was created and brought to life on screen.
Delve into the world behind the screen, from the earliest concepts and designs to the jaw-dropping final cuts.  Learn from the award-winning artists who helped bring it all to life.  Immerse yourself in the expansive collections of costumes, props, sets and weapons. 
When it comes to camping sites in County Armagh, you'll find the perfect blend of natural beauty, rich history, and warm hospitality. Plan your visit today and create unforgettable memories in this enchanting part of Northern Ireland.