Approved Camping and Caravaning parks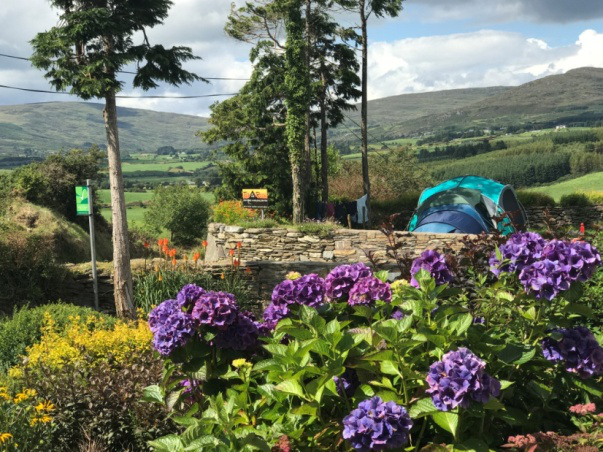 Guide to Grading & Classification
The highest grade in the Republic of Ireland is Four Stars which is reserved for parks of exceptional quality that also provide specific facilities and services. In Northern Ireland the highest grade is Five Star.
Guide to grades in Republic of Ireland
Approved – Acceptable level of cleanliness, service, maintenance, groundmanship and meets customers' minimum requirements
** Parks providing a good level of cleanliness, service, maintenance, groundsmanship and meets customers' requirements.
*** Good to very good quality, facilities & Services
**** Excellent and consistently achieves high quality levels
***** An exceptional standard (Northern Ireland only)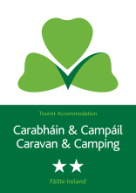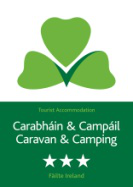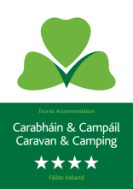 Failte Ireland Welcome Standard– recognises accommodation that is committed to tourism and to maintaining high standards and practices throughout.

Guide to grades in Northern Ireland
In Northern Ireland, accommodation providers can choose to be associated with Tourism Northern Ireland's Star Grading Scheme. Tourism Northern Ireland use a five level star grading system to indicate the standard of customer care, quality, condition and range of facilities on offer at participating establishments.
*Clean and tidy, a fair and acceptable standard
**A good overall standard
*** A very good standard
**** An excellent standard
*****An exceptional standard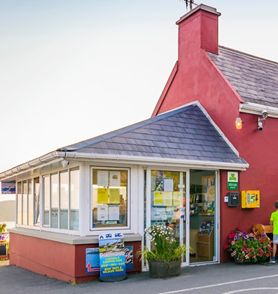 If you have any queries or complaints regarding grading criteria please direct them to:-
Capita Customer Solutions
Tel. 1800 242 473
email: qualityassurance@failteireland.ie
For Parks in Northern Ireland correspondence should be directed to:-
Northern Ireland Tourist Board
Tel. +44 (0) 28 9023 1221 email: info@nitb.com