Camp Sites in County Fermanagh
Take to the water in Northern Ireland's very own lakelands county
The silent waters of the Fermanagh Lakelands have a romantic beauty that has captivated generation after generation of visitors. Tranquil, glassy and utterly beautiful, Lough Erne and the surrounding lakes are Fermanagh's star attraction, but the flat green patchwork of fields that makes up much of the county's countryside equally deserves a look.
With forests, beautiful vistas, old country houses, excellent restaurants, intriguing caves, castles and canoeing, Fermanagh is one of Northern Ireland's best-kept secrets. Read More
Holywell, Belcoo, Belcoo BT93 5DU
58 Derrylin Road, Enniskillen BT92 2FN
Blaney town, Enniskillen BT93 7ER
Search More Camping Sites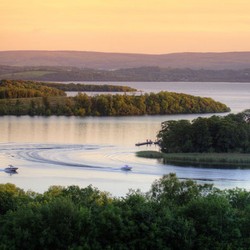 Fermanagh is a wonderful destination to explore – from mysterious caves to majestic waterways there are secluded corners waiting to be discovered.  From the mighty Upper and Lower Lough Erne, to the Shannon-Erne Canal and the River Erne itself, almost a third of County Fermanagh is covered by lakes and waterways of all shapes and sizes.  .  How can a county without a coastline be best known as a water wonderland?  County Fermanagh doesn't need the ocean. It is filled to the brim with an abundance of sparkling lakes, gentle rivers and weaving waterways
With so much natural open space to explore, there's no shortage of amazing outdoor opportunities to enjoy. From wonderful walks to hydrobiking on Lough Erne, cruising along the blissful lakes to exploring historic castles.  Fermanagh Lakelands is home to Pollnagollum Cave in Belmore Forest, one of the filming locations in Season 3 of HBO's Game of Thrones®. One of the infamous wooden doors is also placed in Blakes of the Hollow in Enniskillen town.  And it's not all about the lakes in Fermanagh, below the surface lies one of the finest show caves in Europe.
Travelling to Fermanagh
By Air
Belfast International Airport and Belfast City Airport are both approximately 1.5 hours drive from Enniskillen. The City of Derry Airport is approximately 1 hour and 45 minutes.  Dublin Airport is approx 2 hours from Enniskillen.  You will find flights from over 100 destinations around Europe, the USA and Middle East into these Airports
By Boat
Regular, scheduled ferry services operate between Belfast and Larne to Great Britain approximately 2 hours drive from Enniskillen. Sailings also operate from Fishguard to Rosslare, Holyhead to Dublin Port and Liverpool to Dublin.  Dublin Port is just over 2 hours drive from Enniskillen. Brittany Ferries operates a service between Cork-Roscoff (France).  The following companies offer ferry services into Ireland – Stena Line, Irish Ferries, P&O Ferries, Kintyre Express, and Isle of Man Steam Packet 
By Bus
Translink operate the bus service throughout Northern Ireland.  Routes originating from the Republic of Ireland are operated by Bus Eireann.
Whats to See and Do in Fermanagh
Marble Arch Caves
Experience this fascinating active living cave at its most dramatic. Take a walk on the wild side and discover the secrets of the show cave as the waters rise during heaving rains.  See, smell and feel the water gurgling, dripping and cascading through the crevices in the limestone rock. Hear the torrent as the river forges its way through the cave enlarging passages which have been thousands of years in the making. Under the vibrant green hills of Fermanagh lies a labyrinth of caves, sinkholes and subterranean rivers. Amongst them is the Marble Arch Caves which is the most active river cave in Ireland and the UK. On a guided cave tour their carefully constructed paths enable you to comfortably traverse the Marble Arch Caves whilst discrete lighting displays the cave features and delicate cave formations to their optimum.
Cuilcagh Boardwalk Trail
Cuilcagh Boardwalk Trail meanders through one of the largest expanses of blanket bog in Northern Ireland, traversing over tracks, boardwalk and staircase. The first part of the walk passes through a fascinating limestone landscape, often referred to as "The Fertile Rock" due to its flower rich pastures. After 4km, you start your ascent of Cuilcagh Mountain. The way is negotiated by a section of boardwalk, providing protection to the sensitive blanket bog beneath. Your final ascent is via a steep section of steps, these are not for the faint of heart! As you steadily climb you meander and weave your way through a rugged boulder landscape to eventually reach the viewing platform. The viewing platform positioned precariously at the edge of the mountain plateau offers breath-taking views over the surrounding landscape and an opportunity to take a well-deserved rest before starting your decent.
Florence Court
Located near Enniskillen, Florence Court is one of the most beautiful Georgian houses in Ulster, nestled against the wild mountain backdrop of Benaughlin and the Cuilcagh Mountains. The house and demesne, formerly the home of the Earls of Enniskillen (Cole Family) is one of the most important Georgian Houses (18th century) in Ireland, and holds a fascinating collection of Irish Furniture and some of the best Rococo plasterwork in Ireland.
You can enjoy glorious walks around the grounds which include a pretty walled garden, holiday cottage, sawmill and ice-house. In the gardens you will find the famous Florence Court Yew – reputedly the 'parent' of all Irish yew trees.  'Living History Tours' provide an entertaining insight into 1920s Florence Court and there is also a children's playground and picnic area. Florence Court Forest Park also provides visitors with access to 15 km of trails which have easy-to-understand signage.
Belleek Pottery Visitor Centre
Visitor Centre Guides will take you on a 30-minute pottery tour where you will see the 16 steps of how this world-famous product is created.  Some of the skills demonstrated, you will see molding, flowering, painting and basket weaving.  You will also have the opportunity to see the Belleek craftsmen and women at work highlighting the skill involved in every process.  Visitor participation is encouraged throughout the tour, glazing product and breaking pieces that do not meet the required standard. Admission to the Visitor Centre is free