Camping Sites in County Antrim
Belfast may grab all the attention, but while the Northern Ireland capital is now one of the top city break destinations in Europe, with cool boutiques, hip bars and stunning Victorian architecture, there's a lot more to County Antrim than just the urban buzz of its biggest city. Read More 
40 Castlecatt Road, Bushmills, Antrim BT57 8TN
111 Old Dundonald Road, Belfast
Search More Camping Sites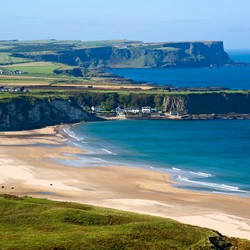 From sublime scenery to big city buzz, Antrim hits the mark
Belfast may grab all the attention, but while the Northern Ireland capital is now one of the top city break destinations in Europe, with cool boutiques, hip bars and stunning Victorian architecture, there's a lot more to County Antrim than just the urban buzz of its biggest city.
With one of the most awesome sights in the world – the Giant's Causeway – an exceptionally beautiful coastline, historic castles and nine sublimely scenic glens, Antrim will win you over with its many charms.
Travelling to Antrim
By Plane
Belfast International Airport is located 30 km from the city centre. There are flights to London, many British destinations, as well as Europe, and now the US.Belfast City Airport caters for smaller aircraft and is conveniently located close to Belfast city centre. It provides flights mainly to and from Britain.
By Boat
The Sea Cat provides the fastest crossing to Northern Ireland from Stranraer in Scotland to Belfast, sailing 5 times a day and taking 90 minutes. A Liverpool to Belfast service runs every second day with Norse Irish Ferries. Stena and P&O Ferries operate ferries to Larne from Stranrear and Cairnryan, taking up to 140 minutes and sailing 10 to 15 times daily. Visit
By Bus
Long distance buses arrive in Belfast at Great Victoria Street Bus Station or Oxford Street Bus Station.
By Train
Trains arrive in Belfast from Dublin, Bangor, Portrush, Portadown, Derry and Larne Harbour
Whats to See and Do in Antrim
The famous Bruces Cave is situated in the cliffs of Raithlin Island Antrim. Robert the Bruce hid here in 1306 after his defeat by the English at Perth.
Read More »
Belfast Zoo is one of the top three family attractions in Northern Ireland.
Read More »
The Ice Bowl Activity Centre And Skating Ring Belfast is home to Northern Irelands only Olypmic sized ice skating rink, hosts birthday parties, bowling and an activity centre for all…
Read More »