Campsites in County Dublin
Framed by majestic mountains, embraced by a winding river, and graced by a beautiful bay, Dublin's charm lies in its blend of vibrant art, historic architecture, hip cafés, and traditional pubs. Wander through the city's cobbled streets, and you'll feel the echoes of a millennium of history intertwining with contemporary boutiques, lively buskers, and enchanting parks that host festivals, film screenings, and food markets.  Read More
Corkagh Park, Green Isle Link Road, Naas Road D22 DR60, Dublin
Search More Camping Sites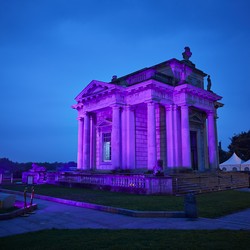 Hip shops, cool pubs and stacks of history make Dublin a top city break destination
Have you met the taxi driver in Dublin who swears blind he knew James Joyce? Have you climbed to the highest pub in Dublin for a Hooley? Or was it the loudest – even without music? Have you laughed out loud at your crash course in comedy on Wicklow Street (or even as you learned the art of conversation with a bunch of friendly Dubliners)? Have you sung out chorus and verse of Molly Malone, not realising you know all the words by heart?
You haven't? Well, if you're looking for a memorable weekend, then you've got to head to Dublin – the most hospitable of cities! But don't just take our word for it…TripAdvisor thinks so, too! 'Dublin,' the travel experts say, 'is Europe's friendliest city, with the friendliest locals!'
You can talk to anyone – the waitress serving your coffee, the women selling flowers on Grafton Street, the guy behind the bar who is slowly and precisely pulling your pint of Guinness, – and you'll suddenly find yourself getting to know far more about Dublin (and Dubliners) than you ever thought possible! Yes, well, we are a rather friendly bunch…
And it's not just TripAdvisor! 'One hour in Dublin,' says Cosmopolitan Magazine, 'and you'll be high on the craic – its explosive mixture of energy and warmth, music and style, not to mention more than 1,000 bar counters where the chat and banter will welcome you in.
Dublin, a city as intimate as a village and as welcoming as an Irish pub, beckons with its vibrant streets and rich history. Framed by majestic mountains, embraced by a winding river, and graced by a beautiful bay, Dublin's charm lies in its blend of vibrant art, historic architecture, hip cafés, and traditional pubs. Wander through the city's cobbled streets, and you'll feel the echoes of a millennium of history intertwining with contemporary boutiques, lively buskers, and enchanting parks that host festivals, film screenings, and food markets.
Venture beyond the city's limits, and the UNESCO Biosphere of Dublin Bay unfolds, inviting you to explore coastal walks, quaint villages, expansive sea views, and rugged mountain backdrops. Embark on a hike in the Dublin mountains, challenge yourself with rock climbing in Dalkey Quarry, stroll along the cliff path in Howth, or join the adventurous Dubliners who embrace sea swimming no matter the weather. Every corner promises a new adventure.
Dublin, it's as friendly as a village and as intimate as a pub, so do as ParisMatch suggests: 'Let yourself be seduced by the charming hospitality of Dublin and the Dubliners marvellous sense of celebration.' What are you waiting for?
Travelling to Dublin
By Plane
Dublin Airport is 10km from the city centre.  Taxis and buses will bring you into the centre of Dublin.  It takes approximately 45 minutes to get into the city from the Airport.  There are daily services to UK, Europe, the Middle East and USA.
By Sea
Dublin Port is located around 5km from the city centre.  Irish Ferries offer daily services to Holyhead and weekly services to Cherbourg. P&O Ferries operates daily to Liverpool.  Brittany Ferries operates services from Rosslare to both Roscoff and Cherbourg (France) and Bilbao (Spain).   Stena Line operates services to Fishguard in the UK and Cherbourg, France.  Irish Ferries offer daily services to Pembroke.  DFDS operates a service between Rosslare and Dunkirk (France)
By Train
Dublin has 2 intercity train stations, Connolly and Heuston where you will find direct trains to all major cities in the country.  The DART (Dublin Area Rapid Transit) is a quick and easy was to get around Dublin and travel to outlying areas.  The LUAS is a tram system within the city.
By Bus
The main bus depot is Busáras, close to Connolly Station where buses departed to all towns & cities within the country.
Whats to See and Do in Dublin
Dublinia, Christ Church and St Patrick's Cathedral
At Dublinia rove through interactive exhibits where the whole family can take a seat on a Viking warship and tour a smoky hut like those the Scandinavian warriors once called home. A discounted combined ticket pairs Dublinia with Christ Church Cathedral next door, where kids over 12 (and adults) can climb up to the belfry to ring the bells. Meanwhile, down in the crypt all ages are invited to dress up as medieval knights or try on Tudor ruffs for size. Afterwards, stroll to St Patrick's Cathedral where since 1432 the pupils of the Choir School have sung at services. Unwind in the lovely park next door with a picnic while the kids explore the playground
Dublin Castle
It's been all go at Dublin Castle over the centuries. First a Viking settlement, then a Norman fortress, it became a Georgian palace and seat of government. Eventually handed over to the newly independent Irish state in 1922, the grounds can be visited for free at this major landmark in Irish history. Start in the main Dubh Linn garden, with its sea serpent pattern cut into the lawn. From there, you can explore the pockets tucked away in each corner and their sculptures.   If you want to get right into the history of the castle, take the guided tour, which includes a visit to the State Apartments (where Irish presidents are inaugurated) and either the medieval undercroft or the 19th-century Chapel Royal, designed in an eye-catching Gothic revival style.
Dublin Zoo
Dublin Zoo, located in the Phoenix Park in the heart of Dublin city, is Ireland's most popular family attraction. Opened in 1831, it is one of the world's oldest and most popular zoos, home to some 400+ animals on 70 acres. Animals at Dublin Zoo live enriched lives in natural social groups, they are fit and healthy, able to breed and raise their own young. They can be observed in naturalistic spaces with vegetation, substrate and water features that reflects their native habitat. Roam the African Savanna and spot giraffes, rhinos and zebras as you go. Hang out with the gorillas at the new Gorilla Rainforest, then travel through the Kaziranga Forest Trail to see the magnificent herd of Asian elephants. The Asian Forest is the newest development to open at Dublin Zoo where visitors can see Asian lion cubs, Sumatran tigers and Sulawesi crested macaques in a natural setting.
National Wax Museum
The National Wax Museum Plus, in Dublin City, features three floors of discovery, interaction and exhibition. It offers musical entertainment and famous faces. Your experience begins in the Science and Discovery room, where you can then explore the Mirror Maze that leads into the Hall of Fame. The Great Irish Writer's room has a spectacular view of Dublin's O'Connell St, where you can salute the literary legends of some of Ireland's greatest writers.
Visit the Father Ted room, explore the children's section and wave hello to some of Ireland's greatest sporting heroes. Head on through to the Time Vaults, before taking a look at the Chamber of Horrors but, try not to get too scared. Hear some of the greatest tales about Ireland in the mythological section
Dublin Bay Cruises
With five trips between Dublin City Centre, Dún Laoghaire and Howth departing each day, Dublin Bay Cruises offer the optimum way to experience Dublin's coastline. The 75-minute cruise is a relaxing way to take in many famous landmarks and even see wildlife. It takes in a variety of scenery and landmarks along the way, and you'll travel through time to understand how and why Dublin became the capital city of Ireland