Camping Sites in County Kerry
Kerry's exceptional coastline is a series of peninsulas that open out into larger bays and give a totally unique feeling to the county, with craggy hills that tumble down into the choppy ocean below, and a remote, untouched aspect to the land.  Read More
Search More Camping Sites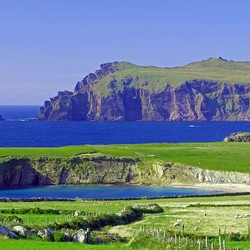 Take a tour of Kerry's inspirational coastline and stunning national park
County Kerry, IrelandFor anyone that loves the great outdoors, Kerry is a dream destination. This charming county has it all, with truly sublime scenery, exceptionally friendly locals, internationally renowned spas, gorgeous little villages and excellent restaurants.
Kerry's exceptional coastline is a series of peninsulas that open out into larger bays and give a totally unique feeling to the county, with craggy hills that tumble down into the choppy ocean below, and a remote, untouched aspect to the land.
A drive around the Ring of Kerry or the Ring of Beara, which crosses the border into Cork, is an unforgettable way to experience the best that this awe-inspiring landscape has to offer.
But if all that feels like too much hard work, then head to one of the utterly lovely villages like Sneem, Kenmare or Dingle and wile your afternoons away eating fresh seafood, drinking creamy pints and listening to some utterly authentic traditional music.
Travelling to Kerry
By Boat
The closest Car Ferry to Kerry is located in Ringaskiddy Co. Cork approx 90 minutes drive from Killarney.Brittany Ferries operate a weekly sailing.
By Plane
Kerry Airport is approximately 20 minutes drive from Killarney just off the main Killarney – Tralee road
By Train
Train services to Kerry are provided by Irish rail. The three stations in Kerry served by rail are Tralee, Farranfore, and Killarney
By Bus
Bus service provided by Bus Eireann.
Whats to See and Do in Kerry