Step into the captivating beauty of County Down, one of Northern Ireland's most sought-after destinations. From the picturesque shores of Belfast Lough to the magnificent Mourne Mountains, County Down offers a rich tapestry of castles, beaches, forest parks, and stately homes. Immerse yourself in the natural wonders and explore hidden gems along the coastal road, taking you on a journey of rural bliss. Read More
Search More Camping Sites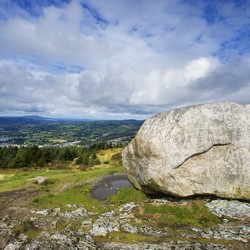 Take a small step south from Belfast, and you'll find yourself in one of the most popular destinations in Northern Ireland – County Down. Stretching from the shores of Belfast Lough, out around Strangford Lough, and down into the magnificent Mourne Mountains. You'll find yourself at home beside castles, beaches, forest parks, stately homes, a Royal Palace.
The Mourne Mountains dominate the south of County Dow where you will find walking routes up each of the mountains. In the Strangford Lough area, immerse yourself in rural and watery bliss with stunning views and places to visit a little off the beaten track.  Drive the coastal road along the penisula and enjoy little hidden gems along the way.
Glorious beaches are dotted throughout the county offering safe places for everyone to swim and you can even enjoy a seaweed bath in Newcastle.  Only an hour from Belfast and 2 hours from Dublin you will be spoilt with choice in County Down.
How to get to Down
By Air
Belfast International Airport and and Dublin Airport are both just over one hour drive from Newry.  You will find flights from over 100 destinations around Europe, the USA and Middle East into these Airports
By Boat
Regular, scheduled ferry services operate between Belfast and Larne to Great Britain approximately 1 hours drive from Newry. Dublin Port is just over an hours drive from Newry.  Sailings also operate from Fishguard to Rosslare and Liverpool to Dublin.  Brittany Ferries operates a service between Cork-Roscoff (France).  The following companies offer ferry services into Ireland – Stena Line, Irish Ferries, P&O Ferries, Kintyre Express, and Isle of Man Steam Packet 
By Train
Trains operate between Dublin Connolly and Belfast stopping in Newry.  Check out Irish Rail for more information.
By Bus
Translink operate the bus service throughout Northern Ireland.  Routes originating from the Republic of Ireland are operated by Bus Eireann.
Whats to See and Do in Down
Hillsborough Castle & Gardens
Explore Northern Ireland's royal residence, where worlds and minds meet. Relax in 100 acres of picturesque gardens, explore the State Rooms still used today.  The castle is the official Northern Ireland residence of HM The King.  It's also been home to the Secretary of State for Northern Ireland since the 1970s and has played a central role in the peace-building process for 40 years, including the Good Friday Agreement negotiations. Access is to the State Rooms that make up this elegant Georgian home including the grand Throne Room, relaxing State Drawing Room, Lady Grey's Study, State Dining Room, Red Room and Stair Hall. Hillsborough Castle's glorious gardens are bursting with colour and are a joy to explore. Discover ornamental grounds, peaceful woodland, meandering waterways and picturesque glens.
Mourne Mountains
Driving the stunning Mourne Coastal Route gives you some sense of the epic size of these mountains – Northern Ireland's highest – but the best way to see the sights is on foot or by bike.  Many of the accessible trails and paths will at some point lead you down into Silent Valley or up the slopes of Slieve Donard, or both. Either way, the Mournes make for a breath-taking outdoors experience. Even stepping off a trail to admire the panoramic views across the glittering Irish sea feels like an event in itself. Look out for the Cooley peninsula to the south, the Isle of Man to the north-east, with Mount Snowdon in Wales visible through binoculars on the clearest of days.
Ulster Transport Musuem
Ulster Transport Museum celebrates the history of invention and innovation through engineering, design, and technology. Home to one of the most comprehensive transport collections in Europe, explore majestic steam locomotives, Irish built motor cars and vintage motorbikes, and traditional horse-drawn carriages. Uncover the history of ship and aircraft building in Ulster, with historic reading materials on show and a model replica of the Titanic!  The Museum of Innovation located in the lower galleries celebrates the great innovations of Ulster including the famous Delorean, Ferguson tractor and the brand new 'Celtic Wave: A History of Surfing' exhibition.
Ulster Folk Museum
First opened in 1964, the Ulster Folk Museum is a remarkable living museum and environmental resource, three miles east of Belfast.  The museum is home to a rich collection of heritage buildings and objects, which is uses to actively preserve and demonstrate traditions, stories and skills passed down through many generations.  Experience daily craft demonstrations from blacksmithing to basket weaving*, wander the winding lanes of the rural site taking in the views and wildlife, and learn about life in rural Ulster.
Kilbroney Park
Kilbroney Park Forest features riverside walks and an arboretum. There is a two-mile forest drive which showcases panoramic views over Carlingford Lough. The forest drive leads to a car park from where walkers have the opportunity to climb to Cloughmore, 'the big stone', a 30ton erratic, which sits at approx 1000ft above Rostrevor. Geologists explain its presence here as having been deposited during the ice age.  However, local folklore claims it was thrown here by Fionn Mac Cool during a fight with a Scottish Giant. During the same battle, the Scottish Giant allegedly tore out a handful of earth and flung it back at Fionn, it missed and landed in the sea.  We now know that area as the Isle of Man and the divot he made filled up with water and became Lough Neagh.   There is also a 4 star caravan & camping park onsite.