Camping Sites in County Down
County Down is a picturesque spot filled mostly with low, rolling hills that contrast spectacularly with the rugged Mountains of Mourne and Slieve Donnard, which rise dramatically to a height of 848 metres. Read More
Search More Camping Sites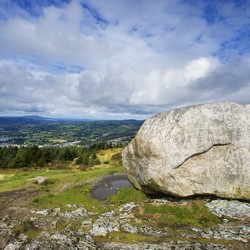 Escape into St Patrick Country for a holiday to remember
Take a glimpse into the fascinating life of Saint Patrick with a trip to scenic County Down.
With a history that covers over 7,000 years, Down is blessed with a wealth of heritage sites, but the most famous of all is Downpatrick, where Ireland's patron saint is reputed to be buried.
County Down is a picturesque spot filled mostly with low, rolling hills that contrast spectacularly with the rugged Mountains of Mourne and Slieve Donnard, which rise dramatically to a height of 848 metres.
Strangford Lough, meanwhile, is an abundant nature reserve with seals, geese, terns and wildfowl nestling amidst its peaceful shores.
Travelling to Down
By Plane
The two airports at Belfast are the closest airports to County Down
By Boat
The nearest ferryports to Co Down are located at Larne and Belfast.
By Bus
Ulsterbus provide daily services to County Down from Belfast and surrounding counties. For more information visit www.ulsterbus.co.uk.
By Train
N.I. Railways serve the Bangor line daily from Belfast's Central station. There are also connections from Bangor for the rail services to Dublin
Whats to See and Do in Down