Camping Sites in County Clare
Take a trip around Clare and the Shannon region and you'll discover spectacular cliffs, ancient landscapes and some of the loveliest villages in Ireland. Read More
Search More Camping Sites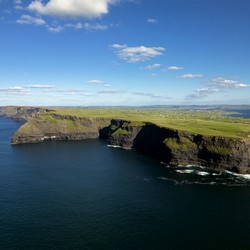 Take a trip around Clare and the Shannon region and you'll discover spectacular cliffs, ancient landscapes and some of the loveliest villages in Ireland
Clare is a county in the West that once visited you'll never forget. From the momentous sheer cliff face of the Cliffs of Moher to the mystical lunar landscape of the Burren, Clare'snatural attractions earn your respect from the moment you set eyes on them.
Shannon airport is located in Clare, making the county a great base (or a great starting point) for exploration of the Shannon region or the west coast. The Shannon region includes Offaly, Tipperary and Limerick. Or fly into Shannon to take in a tour of the west coast including Galway, Mayoand Kerry.
Clare is spoiled with a wealth of exceptional scenic delights, from the rugged charm of the wind and wave-lashed Atlantic coastline, to the famous River Shannon and Lough Derg.
Clare's charming villages reel you in with atmospheric local pubs, excellent traditional music, and laid-back locals, while the county is a hive of outdoor activity with watersports, surfing, angling, golf, horse riding, walking and cycling. Visit Clare and you'll never be short of something to do.
Travelling to Clare
By Plane
Ireland's second largest airport is situated at Shannon. Scheduled services are operated by major Irish and International airlines to and from the USA, UK, mainland Europe, and, of course, other Irish airports.
By Boat
Ennis is less than two hours drive time from Cork ferry port, and about three-and-a-half to four hours from Rosslare, Dun Laoghaire and Dublin Ferry ports.
By Bus
Bus Éireann provide services to County Clare from Dublin, Galway, Waterford and Limerick. Limerick City, which is 23 miles from Ennis, is the Shannon Region's major hub for bus connections.
By Train
The railway network serves Co. Clare with a station at Ennis. Ennis has regular services to Limerick with connections from there to much of the rest of the country.
Whats to See and Do in Clare