Trying to condense the list of top things to do in Ireland is a hard task.  The list could be endless.  Festival and events, music and shows, trips to the Zoo, horse riding on a beach, surfing the waves, walking the trails in the national parks, cycling the many greenways, walking in giant's footsteps, taking in a movie location, the list goes on and on and on.
June is a fantastic month to explore this great little country.  Throughout the country there are many great festivals and events taking place but there are also some great activities and places to visit for all the family to enjoy.  The Bank Holiday weekend is a great time to get away for a few days with family or friends.  Check out Camping Ireland for loads of options on places to pitch up for a few nights.
Here are a few ideas on festivals that are taking place throughout the month of June.
The South West will be a hive of activity in June. Cork and Kerry have the largest number of approved/registered caravan & camping sites in Ireland, so you will have loads of options and choices available for your next trip to this area. In Cork, there are some top quality festivals taking place throughout the month.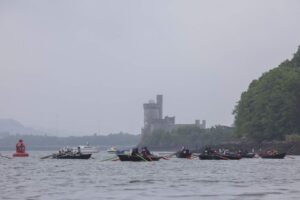 The Cork Harbour Festival returns with Ireland's largest celebration of maritime culture, heritage and family fun activities over 10 days from 2nd to 11th June. There will 80 events in 12 locations across Cork City and County. Highlighting Cork's greatest natural amenities, Cork Harbour and the river Lee, the festival programme includes events around, in and on the harbour and river. The flagship event Ocean to City – An Rás Mór, Ireland's most ambitious rowing and paddling on Saturday 03 June.
One of Cork's longest running events the Cork Summer Show returns on 17th & 18th June.  This year's Show includes classes and competitions in the following categories: Horses, Ponies, Show-jumping, Cattle, Sheep, Goats, Pigs, Poultry, Floral Art, Horticulture and Arts, Crafts & Baking with something for everyone to enjoy!  Don't miss the Pet Dog Show, Live Music, shopping at our Trade Stands, the Funfair, Vintage cars and tractors. Cork Midsummer Festival from 14th – 25th June promises to be a wonderful festival with the city as stage, where Millennium Hall becomes a beach for Sun & Sea's opera performance watched from above, the Marina Market Warehouse is a meeting point for collisions of artforms and audiences, and John Redmond St is transformed with oceans of multicoloured foam!
Cork's biggest traditional Irish music festival returns to Glengarriff from 15th to 18th June with the biggest acts in the trad scene, fiddles and pipes to Island concerts and trad session boat trips and an incredible 50 trad sessions!  Jim Dowling Uileann Pipe & Trad Festival celebrates one of the finest Uileann Pipe players Jim Dowling.  Little fact that you may not know, Glengarriff Caravan & Camping Park (formerly Dowlings) was owned by the late Jim Dowling and is being run now by his son Nicky.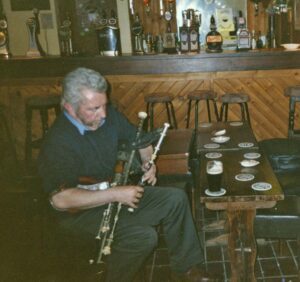 If Kerry is your destination, than you must take a trip to Listowel Writer's Week.  Ireland's oldest Literary and Arts Festival, take places from 31st May to 4th June. Writers, artists and poets join travelling storytellers, experimental poets, local songwriters, cutting-edge novelists, and readers from all corners of the globe – for five days, to create a literary mecca in the heart of Listowel.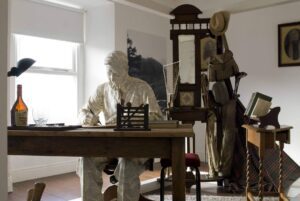 Valentia Island is home to the Ark Storytelling Festival 16th – 18th June.  You can participate in workshops and live performances on beautiful Valentia Island.  The Festival offers a weekend of inspiring workshops and performances with local and visiting performers.
Galway is a great place to visit at any time of the year with a great choice of caravan & camping sites to choose from.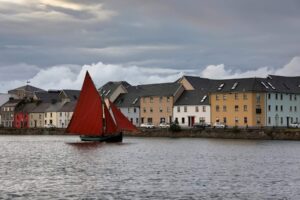 One of the most spectacular things to see out on the sea is the Galway Hooker a traditional boat distinctive to Galway Bay and the coast of Connemara.  The skills of the boat builders and crews can be appreciated during the Summer Regattas.  Each Saturday and Sunday, throughout the summer months, races will take place along the Galway coast line.  For June the locations are – June 3rd & 4th Lettermore, June 10th & 11th Spiddal, June 17th & 18th Rosmuc.  The Galway Folk Festival takes place from 14th to 25th June and offers another exciting programme of events.  The Festival will showcase the best of folk, roots, and traditional music, from Ireland and beyond.
2 great events/festivals are taking place in Dublin during June. Pitch up for a few days on site in Dublin or stay further afield in Wicklow and take the dart into the capital. Taste of Dublin returns to the Iveagh Gardens from 15th to 18th June and promises to be a mouth-watering few days.  The festival offers visitors the unique opportunity to source essential ingredients from artisan producers, engage with Ireland's top culinary talent, be on the front line of master classes from and relax in the gourmet atmosphere of the summer's finest food and drink festival.  You'll be able to sample signature dishes from Dublin's latest, greatest and most exciting restaurants, as well as off-menu items they've created exclusively for Taste.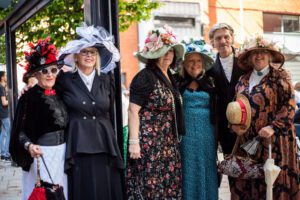 Bloomsday celebrations, Dublin
From 12th to 18th June, Dublin will host the unique Bloomsday Festival, celebrating the life, literature, and legacy of one of the world's greatest writers, James Joyce. The Bloomsday Festival will fill Dublin with all the joy, fun, and creativity of James Joyce's epic work, Ulysses, with walking tours, music, theatre, film, poetry, art exhibitions, readings, lectures, workshops, and children's activities. Sample the real places and spaces of Ulysses with costumes, food, music, and performance.
Festivals not your thing, don't worry there is plenty of other great and exciting things for all the family to enjoy in the great outdoors.
Ireland's Blueways are a network of multi-activity recreational trails, based on or alongside idyllic lakes, canals and rivers in Ireland. They provide scenic routes into the heart of rural Ireland by canoe, bike or on foot.  Don't forget to load up your bikes onto your caravan or motorhome.  If you are staying in Leitrim, Roscommon or having a city break in Dublin you will be within easy access of 2 of the Blueways.  The Royal Canal Blueway stretches from Dublin to Leitrim with 16km of walking & cycling trails.  The Shannon-Erne Blueway is a series of scenic trails between Leitrim and Cavan with paddling, walking and cycling trails.  The Shannon Blueway travels between Roscommon and Leitrim and has series of off-road cycling and walking trails and also their own 'floating walkway'.  Moving south, Lough Derg stretches between Clare Tipperary and Galway.  You can do it by canoe, paddle board, under sail, by bicycle or by foot.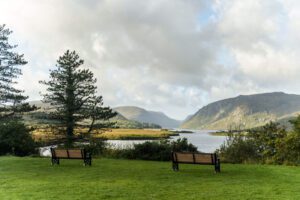 Did you know there are 6 National Parks in Ireland, all free to visit? The first park established in Ireland was Killarney National Park located in County Kerry in 1932. Since then a further five National Parks have been opened – Glenveagh National Park, Donegal, Wicklow Mountains National Park, Connemara National Park, the Burren, Co. Clare and the newest Ballycroy in County Mayo. The parks are located in all parts of the country for you to explore and enjoy.  Where ever you stay in Ireland there isn't a national park too far away from you.  For more information on the National Parks click here for more information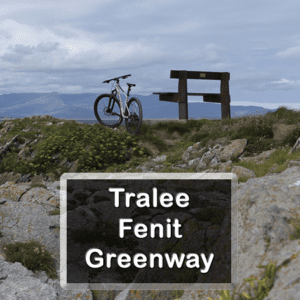 Ireland's Greenways are a great way to see some of the most beautiful and unspoilt parts of the country. Here are our favourites
Waterford Greenway
Great Western Greenway
Great Southern Trail
Grand Canal Way
Royal Canal Way
Great Eastern Greenway
Old Rail Trail Mullingar to Athlone
Kingdom of Kerry Greenway
A Greenway is a predominantly traffic free path, designated for use by pedestrians, cyclists and other non-motorised users such as wheelchair users, families with buggies etc. Greenways are designed specifically to meet the needs of cyclists in terms of gradient and surface and are wide enough to accommodate shared usage. Greenways are ideal for cyclists, and in particular cyclists with limited experience and children.
These are just a few ideas to get you thinking about what to do and see during your trips away in June.  So whether you are planning a few days away or a longer break during the holidays there is plenty to see and do as part of your caravan & camping holiday.
It is time to get planning and booking for your next trip away.  Camping Ireland has so much information to help you plan your caravan & camping trip away.  Our website is very user-friendly and has a number of great features which makes it very easy to navigate.  One of the new features is that you can now add filters to your selection.  This will allow you to get information on parks that are specific to your needs.
You can now filter for sites as follows:
Camping type – camping, glamping, mobile home hire, etc.
Holiday type – beach holiday, countryside, family-friendly, dog friendly, etc.
Facilities – beach nearby, playground, games room, shop, etc.
County
Region – Wild Atlantic Way, Ireland's Ancient East, Ireland's Hidden Heartlands, Dublin or Northern Ireland
Also, many sites are now offering online booking which will help you secure your pitch at the click of a button.
Whatever you want Camping Ireland has something to suit everyone.  Enjoy the independence and flexibility that camping in Ireland can offer in quality approved sites.  We look forward to welcoming you to Ireland's outdoor living.