Experience Glamping in Ireland
Glamping is essentially "glamour" and "camping" rolled into one word. It has all the same outdoor attractions as regular camping, but with the added benefit of a big cosy bed, a proper duvet and in some cases a burning stove. Glamping has really taken off the last couple of years. Many people have found glamping an alternative for holidays while having a totally unique experience. You don't have to be dependent on the weather to experience outdoor living. Glamping can take many forms from bell tents, log cabins, microlodges, pods, tree houses to name but a few.
There is a whole variety of glamping holidays to experience in Ireland. If you are the type who likes some creature comforts but want to get back in touch with nature, then glamping is the perfect holiday for you. Many parks throughout Ireland now offer glamping facilities. People also use glamping facilities to holiday with friends or family who own a tent or caravan. For information on glamping facilities available check out – Camping Ireland
Bell tents were probably the first of the glamping options to come onstream. The tents are set-up on site and are fully equipped with beds, duvet, flooring, and are heated. They are prefect for a family break offering more headroom then a conventional tent or a cosy romantic escape. The wind might be howling outside but you are safe and warm in the comfort of your bell tent.
You will find Glamping Tents in the following locations:-
Battlebridge Caravan & Camping Park, Leitrim
International Outdoor Adventure Centre, Wicklow
O'Connor's Riverside Camping & Caravan Park, Clare
Cong Camping & Caravan Park, Mayo
Pods and log cabins can take many formats and designs. They can be cosy wooden structures for 2 people with a bed, 2 seats and a heater or they can be more elaborate big enough for a family with tiered bedding, wood burning stoves, ensuite bathrooms and limited cooking facilities. Whichever takes your fancy you will find a number of pods and log cabins around Ireland. Check out the following quality approved sites that offer pods or log cabins for weekends or weekly stays:-
Aran Isalands Camping & Glamping, Galway
Battlebridge Caravan & Camping Park, Leitrim
Top of the Rock Pod Páirc & Walking Centre, Cork
Nagle's Doolin Camping & Caravan Park
Hidden Valley Caravan & Camping Park, Wicklow
River Valley Caravan Park, Wicklow
Duncannon Beach Holiday Park, Wexford
Sir Rogers Caravan Park, Kerry
Blaney Caravan Park, Fermanagh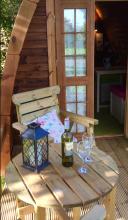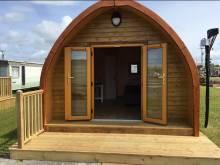 Glamping now encompasses any kind of accommodation that is deemed quirky or unique. Glamping units are self-contained and allow you to experience outdoor living with a bit of luxury. The glamping unit opens out onto the great outdoors with creature comforts coming as standard.
There is a glamping accommodation type for everyone from the elaborate pods and bell tents to the rustic log cabins and tree houses. The comfort levels and price of these range so there is something for everyone and for every budget. Why not take a glamping holiday this year and experience all that Ireland has to offer.
Ireland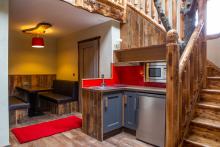 's first Glampotel opened this year at River Valley Park, Wicklow. Best described as a crossover between a boutique hotel and luxury Glamping, it promises all the luxuries of a hotel in a unique layout and setting. A gorgeous outdoor space includes a decking, barbecue and outdoor seating. Enter inside and downstairs the space is made up with a double bedroom, Shower room & toilet, Dining area and Kitchenette. Upstairs a bespoke mezzanine has three full size single beds. This is in addition to their spectacular tree houses.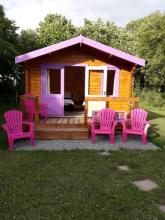 For more information on all these sites
check out our website www.campingireland.ie