Part 2 of our hand hacks and little tips to make your caravan & camping holiday even better, if that?s possible!
We have covered storage and we have covered cleaning now it?s time to get to the fun part – Little quirky tips and hints to make life easier.
I hope these ideas and tips will help you to have a great trip. Before we go any further one very important tip is to book ahead. With Camping Ireland?s new website you will find information of over 100 quality approved caravan & camping parks throughout the Island of Ireland. From Donegal to Cork, from Antrim to Waterford and Galway to Dublin there are great places to pitch up for a few days.
Now for the tips & advice.
Practise makes perfect – do a trial run in their garden before you go. It?s not as embarrassing to make mistakes in your garden as it is in front of other well seasoned campers! This is also really important if it?s before your first trip of the season. You?ll notice if you are missing any items or if anything is broken and needs replacing. Nothing worse than a burst airbeam or bent tent pole when are on your holidays!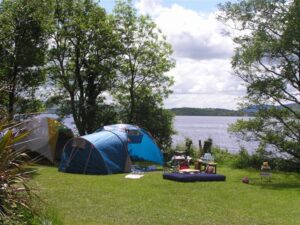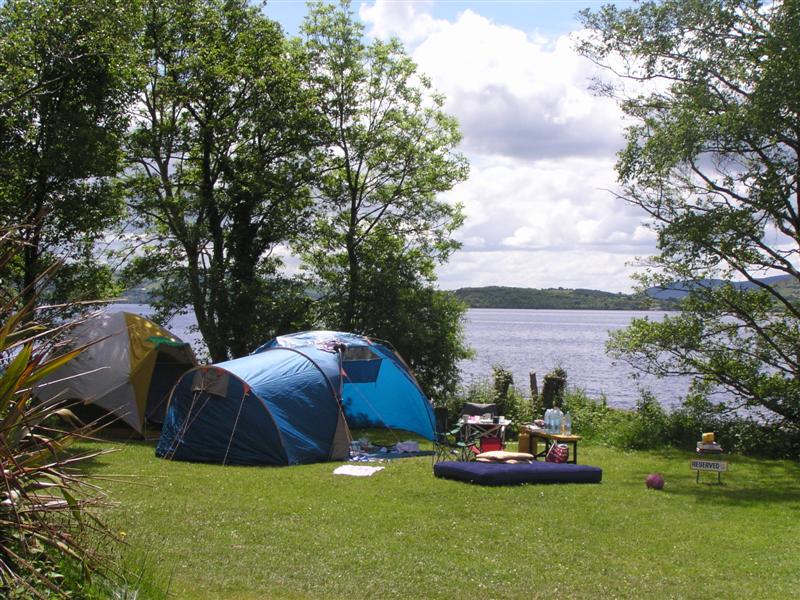 Packing your car/caravan/motorhome – make sure the things you will need first when you arrive on site are easily accessible. It?s stressful enough trying to set everything up without having to empty the contents onto the grass to find something at the back, particularly if it?s raining. Also, might be worth investing in a small kart on wheels.
Set up in daylight – always arrive at your campsite a good few hours before it gets dark. That way you can find your pitch and have plenty of time to set up before night fall. Scrabbling around in the dark trying to pitch up is no fun for anyone and you're more likely to do something wrong.
Setting up your tent ? always zip up doors before you put your tent up. If you leave the doors of your tent unzipped when you pitch it will be pulled so taut that zipping the doors up will be difficult, causing tension that could damage the zips.
Don?t push in pegs using your feet – The easiest way to bend pegs is by attempting to push them in with your foot. If the ground is super soft, you might get away with it, but in normal conditions, you?re more likely to bend the pegs rendering them unusable. Always use a mallet.
Look before you pitch ? Pitches can vary a lot within a site. Always take a good look around to make sure it is suitable for you, particularly from a safety point of view if you have small children with you. Also, you may want a quieter spot away from families or want to be close to facilities. If you have specific requirements always make sure you talk to the owner when booking.
Wet shoes – As you?re going to bed, take the insoles out of your wet shoes and stuff the shoes with newspaper. By morning they should be nice and dry. Always pack some of the small plastic shower caps which you get in hotel rooms. They are ideal to put shoes into, particularly dirty or sandy shoes
Sealable sandwich bags are great for storing any small electronics when the rain starts pouring or to put your phone into when you are out and about.
Heat getting to you – Hang a cold damp towel over a fan to cool the air down before it circulates. This is a handy tip for anytime not just camping time.
Toiletries ? some people suggest you buy travel size toiletries as they take up less room. However, these can be costly and need replenishing regularly. Take the ones you use at home. Simply cover with cling film under lids to avoid spillages and store in a ziplock bag. You can also buy small travel size containers which you can fill with your own toiletries.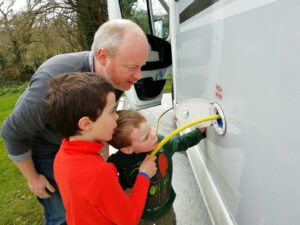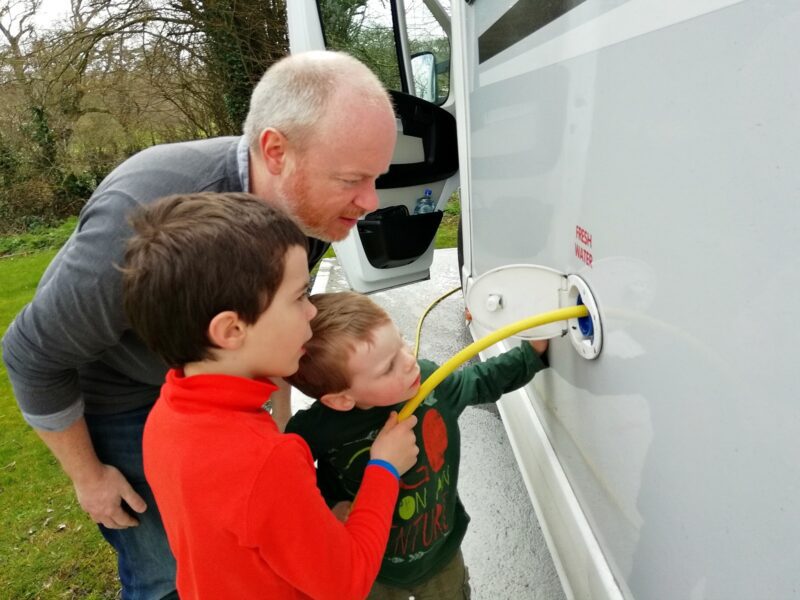 Give the kids jobs to do – Whilst you are busy pitching and setting up, children can sometimes prove to be a bit of a distraction. Give them jobs to do so they aren?t under your feet and they feel like they are helping. Delegate easy jobs like blowing up air beds and setting up simple camp furniture so they feel involved and are kept busy.
Trees – The shade of a tree can look appealing, but the grass is often poor because it?s protected from the rain, trees can drip sap and birds have a habit of roosting and leaving little presents on your lovely unit beneath. Rain will also drip from trees long after the rain has passed.
Fuel for cooking – Take extra fuel for cooking. You might get through more than you think and not every campsite has a camp shop. There is nothing worse than being in the middle of cooking dinner and you run out of gas.
Gas cylinder – To find out how much gas you have left in a bottle, pour warm water down the side. The water turns cold where the gas starts
Cool Box ? Freeze as much as you can before you pack it, and if you can?t freeze an item, at least make sure it is chilled, rather than at room temperature before you place it in the cooler. Remember too that the fuller your cool box is, the more effectively it will keep the contents cool.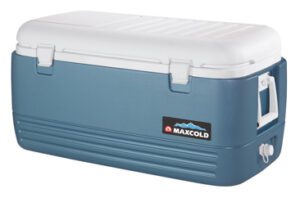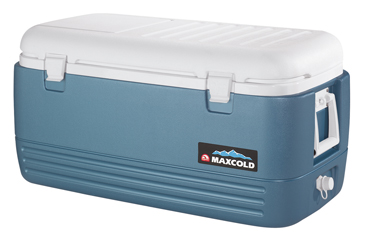 Keeping things cold longer – Rather than filling your cool box/bag with ice, freeze bottles of water instead. They can take a long time to thaw out and should keep your food nice and cool. Then, once they do thaw, you?ll have plenty of fresh drinking water available.

Water carrier – A collapsible water carrier is very handy, particularly one that also dispenses water and then can be folded away when not in use.
Staying warm when sleeping ? This can be difficult, particularly with the Irish climate. Put an extra blanket or even a picnic blanket underneath air mattresses as another layer of protection from the cold ground. Invest in good sleeping bags and air mattresses. Take pillows and extra blankets or duvets to stay super cosy. Cold feet? Fill your water bottle with hot water, make sure it is closed tightly and slip into your sleeping bag as a heat pack
Zips ? Whether it?s the zip in your tent or the zip in your sleeping bag they can often come stiff and difficult to open. Rub an unlit candle over it. Also, sometimes little fingers find it hard to grasp the zip so attach a large keyring to make life easier.
Sleep aids – Earplugs also come in handy in case of nearby snorers and noisy nocturnal wildlife. Also, eye masks will limit the glare of the early morning sun
Glow sticks ? Hang them outside your unit so that you can easily spot your pitch when you are coming back in the dark.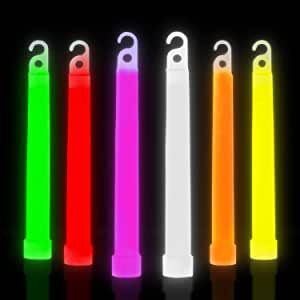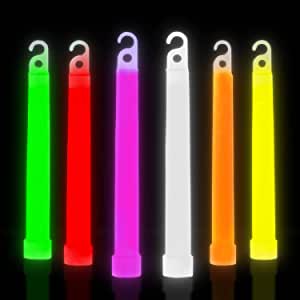 The dreaded insects ? Inevitably there will be insects flying around. Some people will escape but for many others the Irish blood is very tasty for these insects. If sitting outside keep a citronella candle burning or dilute a few drops into a spray bottle and use it to spray around your area to keep the insects at bay. Also, through some sage into your fire.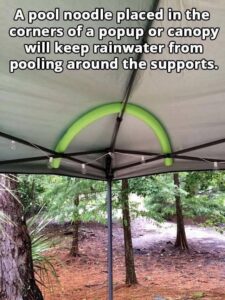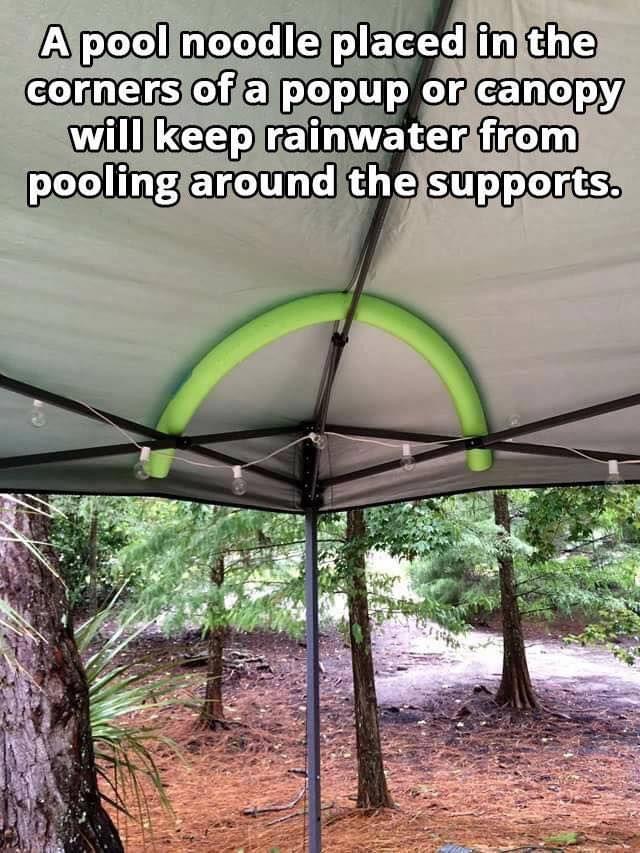 Pool noodles have many uses not just swimming aid. They can be cut into small sections and placed over guy ropes to make them stand out against grass to prevent anyone tripping. Also, place a pool noodle in the corners of a pop-up or canopy to keep rainwater from pooling around the supports.
Repair kit ? Always have a full stocked repair kit. It should include at the very least duct tape, cable ties and extra pegs.
Mealtimes ? We all have to be fed and one of the great things about going camping is cooking outdoors. It is wise to plan ahead, prepare as much as possible at home and if possible pre-cook things so that you won?t be wasting precious time from your holiday cooking.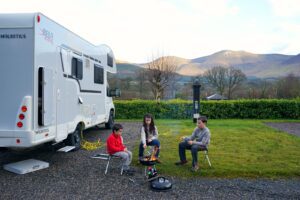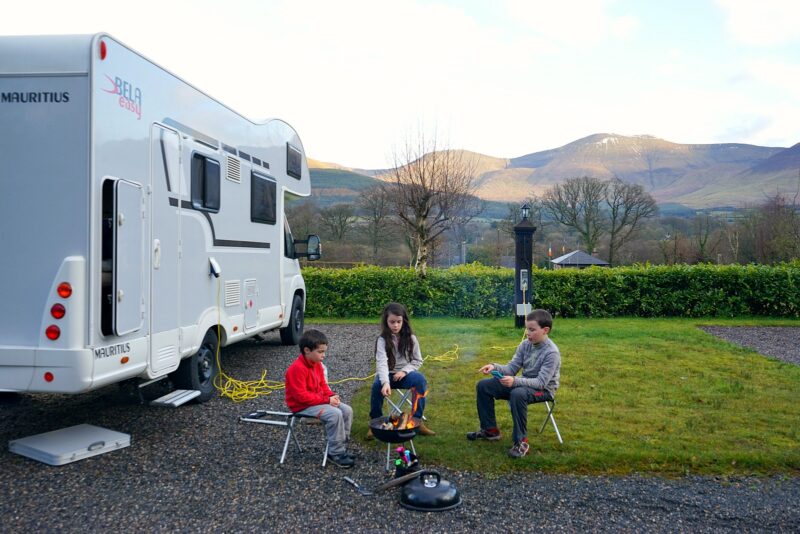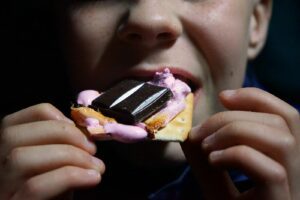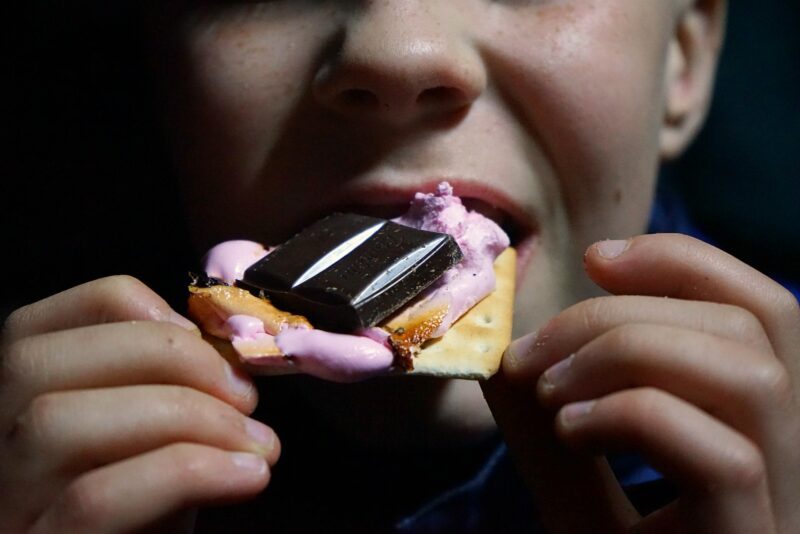 Here are a few handy tips on feeding your family on holidays
Don?t rely on just a barbecue. Weather conditions may not always be favourable to outdoor cooking. Make sure you have an alternative method of cooking food, like a simple camping stove.
A small bottle of spray oil is very handy for cooking. Saves the unpleasant mess of a big bottle of cooking oil spilling while travelling.
How do you like your eggs in the morning? Rather than bringing a box of eggs and running the risk of them getting smashed if you go over a bump or something heavy is on top of the box, crack and put them into a bottle before you leave home. One water bottle can hold approximately 8 cracked eggs.
Keeping your pan clean – put a little washing up liquid on the bottom before putting it on the grill. It?ll be much easier to remove ash and grease.
Help is on-hand – If you are onsite and you have a problem with your caravan or motorhome ask the advice of the campsite owner. They have a wealth of experience and often have the materials available to help you make temporary repairs. Also, your fellow campers will also be more than willing to lend a helping hand!
Camping Ireland has so much information to help you plan your caravan & camping trip away. The new website is very user-friendly and has a number of great features which makes it very easy to navigate. One of the new features is that you can now add filters to your selection. This will allow you to get information on parks that are specific to your needs.
You can now filter for sites as follows:
Camping type ? camping, glamping, mobile home hire, etc.
Holiday type ? beach holiday, countryside, family-friendly, dog friendly, etc.
Facilities ? beach nearby, playground, games room, shop, etc.
County
Region ? Wild Atlantic Way, Ireland?s Ancient East, Ireland?s Hidden Heartlands, Dublin or Northern Ireland
Also, many sites are now offering online booking which will help you secure your pitch at the click of a button.
Whatever you want Camping Ireland has something to suit everyone. Enjoy the independence and flexibility that camping in Ireland can offer in quality approved sites. We look forward to welcoming you to Ireland?s outdoor living.