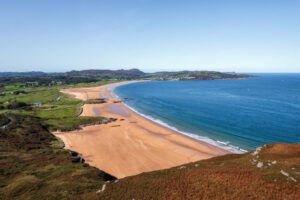 What better time to experience some of the great beaches dotted around the coastline of Ireland. It is also a perfect time to take a caravan & camping holiday. Warm days, balmy nights the perfect recipe for sleeping under the stars. Why not take a few days away in one of Ireland's many fabulous sites and take a trip to the beach.
To make your search easier to find the ideal beach location you can now filter your search on Camping Ireland for Beach Holidays.
A record number of Irish beaches have won the prestigious blue flag and green coast awards. In 2023, 159 beaches have won an award from An Táisce, two more than last year. The 94 beaches that have been awarded blue flag status include three new additions all from Co Mayo – Bertha, Clare Island (Louisburgh) and Old Head. A blue flag is awarded for ?excellent? water quality. To find out if your favourite beach as been awarded blue flag status click here
Take a few days away, hook up the caravan, prep the motorhome or pack-up the tent. Experience all that Ireland has to offer. And, if it?s too busy along the coast come in few kilometres where you will find plenty of quality approved caravan & camping parks to overnight.
So whether you are visiting the Wild Atlantic Way, Ireland?s Ancient East or Northern Ireland there are some great beaches with miles of golden sands and some hidden gems. Ireland boasts 94 Blue Flag beaches and its coastline stretches to over 6,000km offering some of the most scenic, safe and spectacular beaches in the world. They are the perfect locations to holiday with your family and make great memories. Some of Ireland?s top caravan & camping parks are located along the coastline of Ireland.
Here are some of our favourite beaches.
Ireland?s Ancient East runs from Carlingford to Cavan and south to Cork City and East County Cork moving eastwards to Waterford, Kilkenny, Wexford and Wicklow. It hugs the eastern seaboard of Ireland and has some fabulous beaches along the route.
Co. Wicklow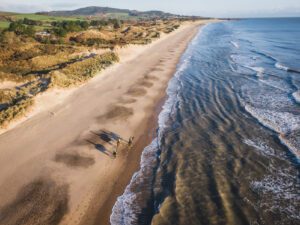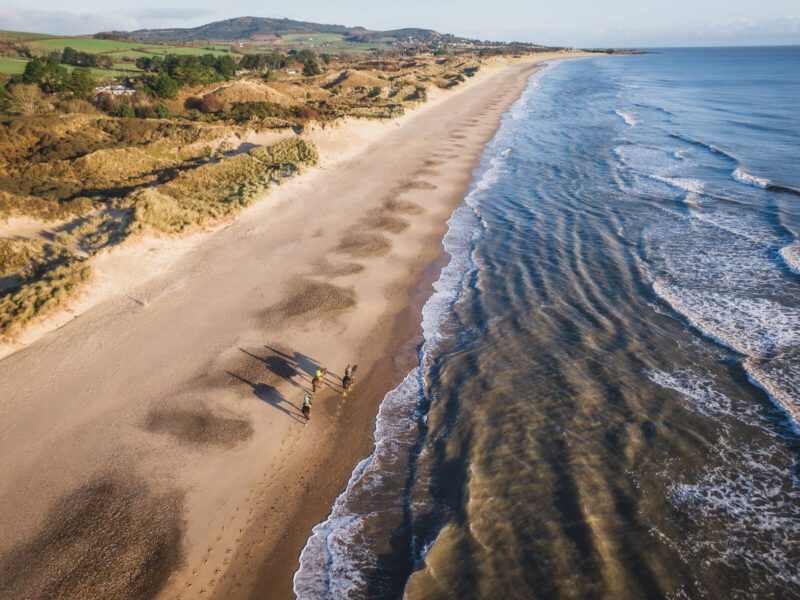 Brittas Bay – 4km stretch of soft sand and sand dunes. It is an ideal area for bathing, walking or sailing.
Greystones Beach – Greystones actually has two beaches separated by the harbour. While the North Beach is pebbly South Beach is mostly sandy. The Dart line (train) from Dublin runs right beside the beach and there is a station at South Beach. Very handy if you are staying in Dublin and want to take a trip to the beach.
Click here for details on caravan & camping sites in Wicklow
Co. Wexford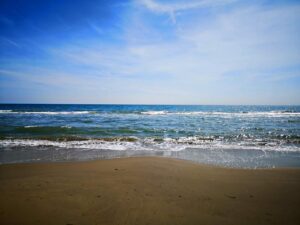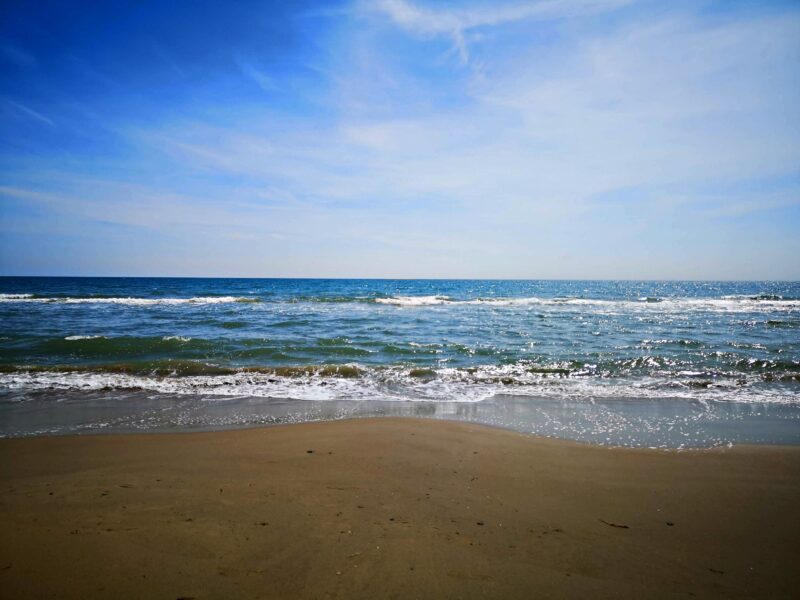 Morriscastle Beach ? also known as the 'Golden Mile'.As well as being fantastically long Morriscastle Strand has lovely, fine golden sand. Bordered by dunes offering shelter from the breeze, this is an ideal beach for children to play
Curracloe Beach ? Did you know that the opening scenes of Saving Private Ryan were filmed on the golden sands of Curracloe in Wexford? Walk along the hilly dunes and listen as the waves lap softly against the shore. Spellbinding Curracloe is undoubtedly one of the best beaches in Ireland.
Duncannon Beach – When in Wexford, plan a beach day at Duncannon. The sheltered strand makes for ideal swimming conditions and there?s a lifeguard on duty during the summer months. Relax with a book as the kids play in the sea and after, take a stroll to nearby Duncannon Fort.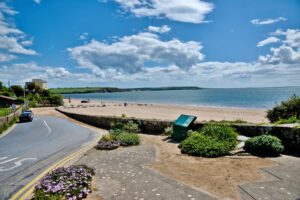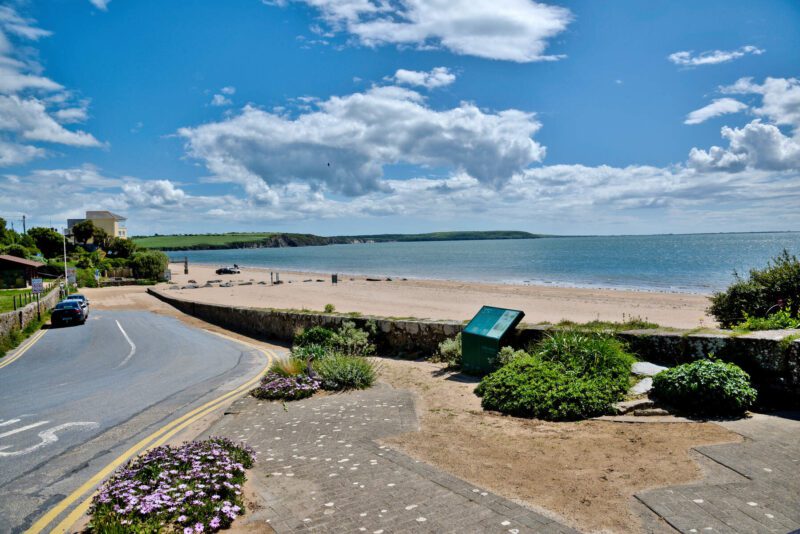 Click here for details on caravan & camping sites in Wexford
Co. Waterford
Clonea Beach – Clonea Strand is an extensive and popular sandy beach, 10 minute's drive from Dungarvan town. Clonea beach is more than a mile long and is a very popular beach all year round. Waterford?s Greenway cycling and walking route runs behind the beach.
Tramore Beach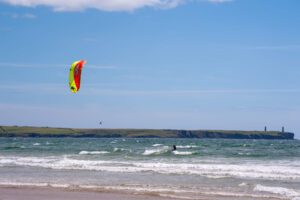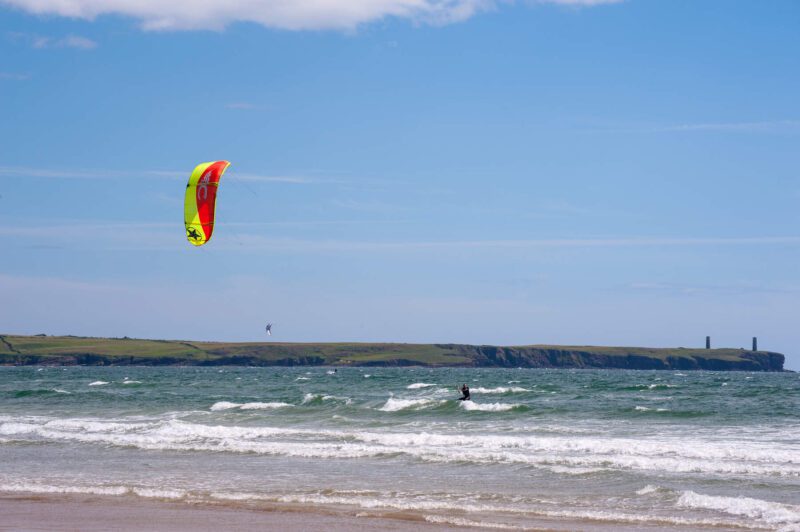 Meaning the ?big strand? stretches for 5km and is a fabulous beach. Enjoy fun days at the beach on a trip to the seaside town of Tramore. There is also a fabulous promenade on the beachfront. The town also has a number of amusement arcades for all the family to enjoy and also has a fabulous indoor swimming pool Splashworld
Click here for details on caravan & camping sites in Wateford
Co. Cork
Part of Cork is in Ireland?s Ancient East and the West of the county is in Ireland?s Wild Atlantic Way. The county boasts some of the best camping spots in the country. The Wild Atlantic Way is the longest defined coastal touring route in the World and showcases some of the most scenic points along Ireland?s coastline. Stretching 2,500km from Inishowen Co. Donegal at its most northerly point, to Kinsale Co. Cork, its southern point the route hugs the coastline of Ireland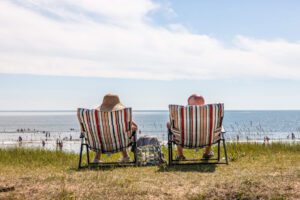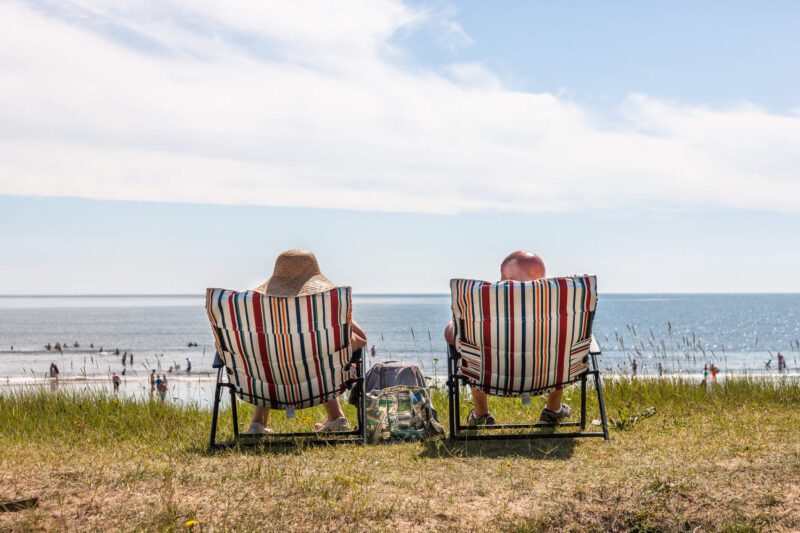 Youghal – Front Strand Beach & Claycastle Beach are 2 sandy beaches located side by side and within walking distance of al Town. Youghal?s 400 metre wheelchair friendly Boardwalk leads from Front Strand onto Claycastle. You can walk from Claycastle to Redbarn Beach which is also accessible by road.
Garrettstown beach ? located near the village of Ballinspittle just outside Kinsale. It is an extensive sandy beach and enjoys stunning views of the Old Head of Kinsale. There is also a walking route linking Garrettstown Beach to Garrylucas Beach.
Barleycove– This sandy beach is situated between two headlands on the Mizen Peninsula in West Cork and comprises an extensive dune system and is said to be one of the finest beaches in West Cork.
Inchydoney Beach ? located 5km from Clonakilty. The beach is very popular with families and is fabulous for swimming. The beach has great sand dunes for all the family to enjoy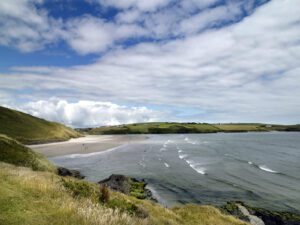 Click here for details on caravan & camping sites in Cork
Co. Kerry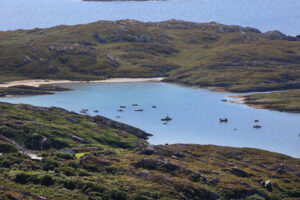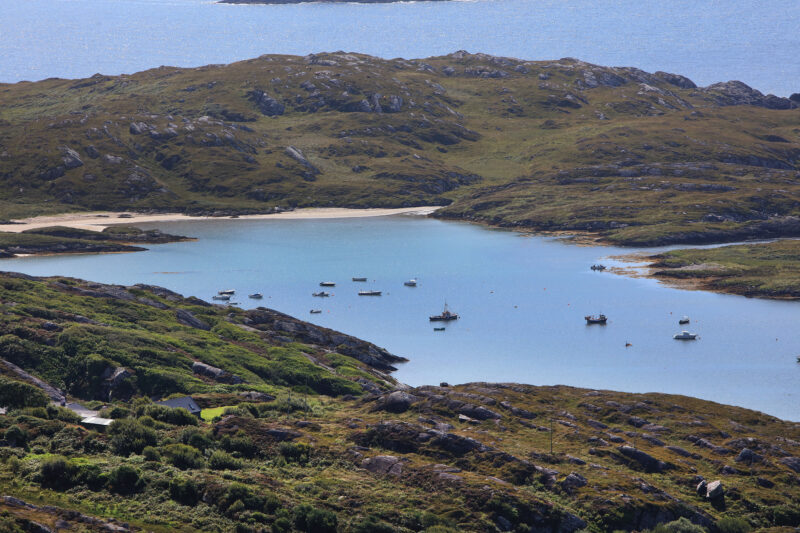 Derrynane Beach ? My personal favourite in the whole world!!! This is a sheltered sandy beach with a natural harbour. Access is by a narrow road off the Ring of Kerry which may not be very suitable for a caravan or motorhome. Better just to bring the car!
Rossbeigh Beach ? Rossbeigh Beach is just over 1km from the picturesque village of Glenbeigh and stretches for 7km. Again it is very popular with families. In August there is also horse racing on the beach, well worth seeing.
Banna Beach ? Located just 7km from Tralee this again is a lovely sandy beach which extends for miles and is a walker?s paradise. The sand dunes here are a designated conservation area with rare plants and animals.
Inch Strand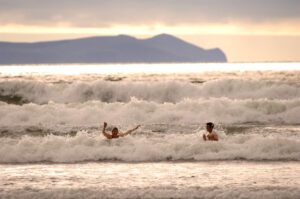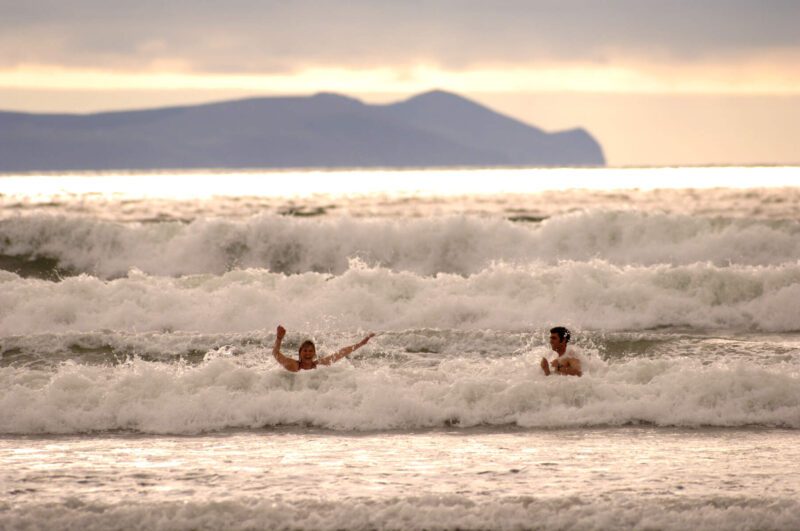 5km of sandy beach located on the Dingle Peninsula. It has unrivalled views of Dingle Bay and the Macgillycuddy Reeks. This beach is a safe environment for all types of water sports including surfing, kayaking, windsurfing and kite surfing
Click here for details on caravan &camping sites in Kerry
Co. Clare
Kilkee Beach ? located in the town of Kilkee this crescent shaped beach of golden sand shelves gently seawards. The beach has a number of interesting pools and good cliff walks. Again it is very popular with families and a safe swimming location.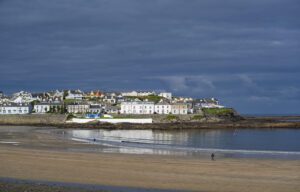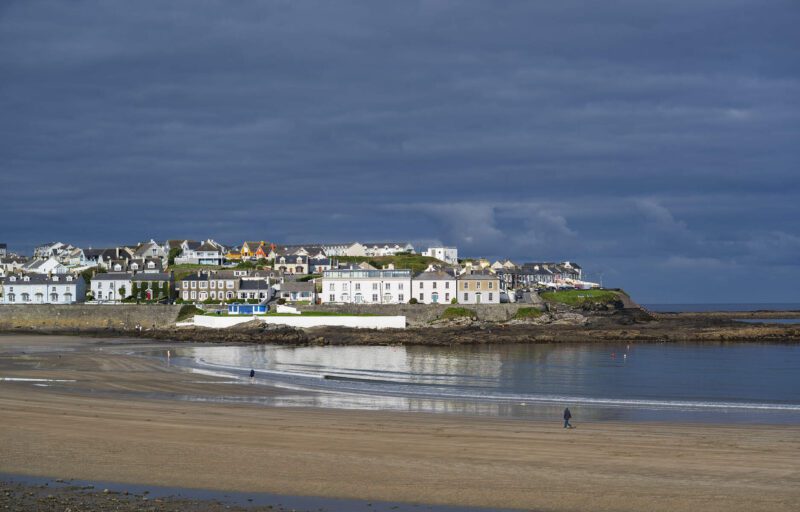 Spanish Point – On a sunny day, Spanish Point Beach is one of the best places in the world. Five minutes outside the pretty town of Miltown Malbay in Clare, you?ll find this gorgeous golden beach. Build sandcastles with the kids, walk along the soft sand and if time allows. If you love sea swimming, plan your holiday around one of Snamhai Sasta?s group swims.
Click here for details on caravan& camping sites in Clare
Co. Galway
Gurteen Beach & Dog's Bay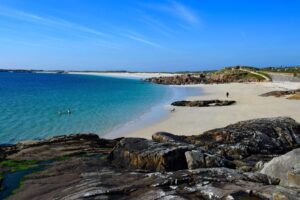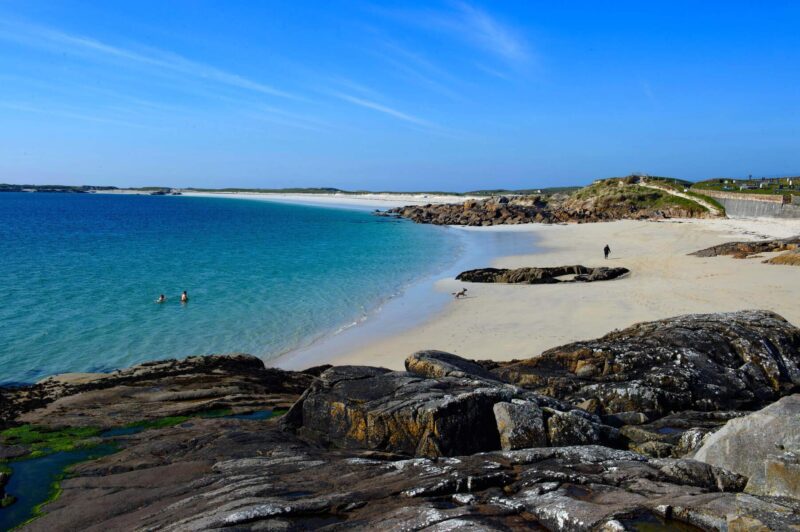 Two miles from Roundstone on the road to Clifden, are two of the finest beaches in Ireland. Gurteen Beach and Dog?s Bay lie back to back forming a tombolo jutting out into the Atlantic Ocean.Dog's Bay is located closer to Roundstone village and has a spectacular horseshoe shape with more than a mile long stretch of white sandy beach
Kilmurvey Beach ? Located on Inishmore (Inis Mór), the largest of the three Aran Islands, this beach is a popular spot for swimming with a lifeguard on watch during the summer months. Bring your bike and see all the sights as you tour the island. Access to the Island is either by ferry from Doolin in Clare or Rossaveal in Galway. Alternatively take the scenic route by flying from Connemara Airport!
Click here for details on caravan &camping sites in Galway
Co. Mayo
Keel Beach – under Achill Head, is one of the most popular and magnificent sandy beaches on Achill Island. Keel beach is a haven for a variety of water sports such as diving, surfing, windsurfing, swimming or even for a stroll on the long golden sandy beach.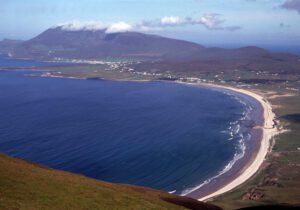 Keem Beach ? one of the most picturesque small beaches in Ireland. Its sparkling turquoise waters and spectacular horseshoe shaped bay will take your breath away. The beautiful beach is backed by grassy slopes and the bay is sheltered on either side by cliffs,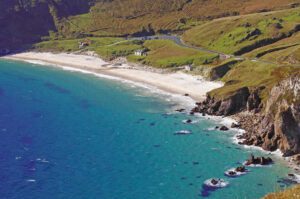 Click here for details on caravan & camping sites in Mayo
Co. Sligo
Rosses Point – located 8km from Sligo town via the R291. The beach has a 2km stretch of fine sands and is backed by sand dunes. From the beach there are beautiful views of Knocknarea to the south and Benbulben to the north.
Strandhill Beach – With its dramatic swells and clean breaks, Strandhill Beach is one of the best spots in the country for surfing. As well as being an extremely popular surfing spot, Strandhill has a number of amazing walks taken from Strandhill Beach to Culleenamore Strand and also to Killaspubrone
Click here for details on caravan & camping sites in Sligo
Co. Donegal
Rossnowlagh ? located in South West Donegal has a wide, sandy, Blue Flag beach which stretches about 4km (2.5 miles) in length. The beach faces west and has spectacular views over Donegal Bay towards the sea cliffs at Slieve League and out into the Atlantic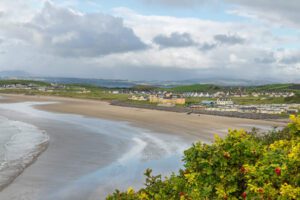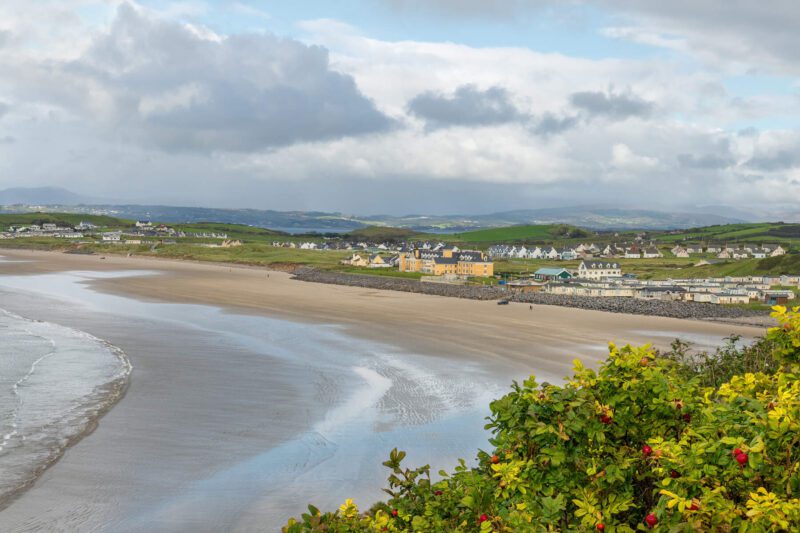 Portsalon Beach – also known as Ballymastocker Strand, is one of the country?s most breathtaking beaches. Once voted the second most beautiful beach in the world, Portsalon in Donegal draws visitors from far and wide and its views of the Inishowen Peninsula are simply unrivalled.
Click here for details on caravan & camping sites in Donegal
When it comes to scenic spots Northern Ireland is truly blessed with some of the most spectacular on the Island of Ireland. From the Mourne Mountains to the breath-taking Causeway Coast and Glens, a visit to Northern Ireland will be a truly unforgettable experience.
Co. Down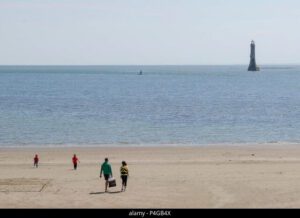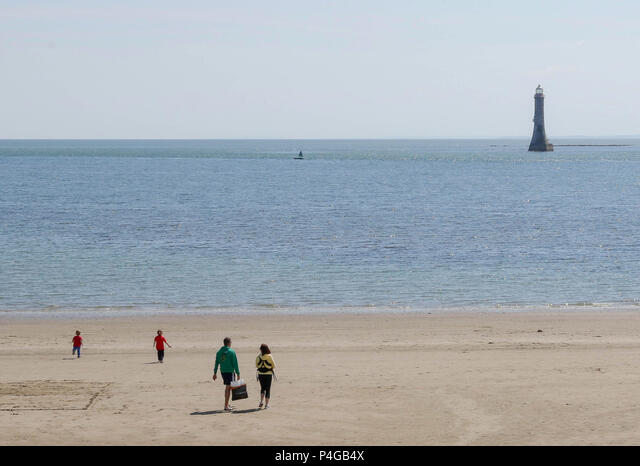 Cranfield West– offers a gently sloping, mainly sandy beach located at the entrance to Carlingford Lough. Set in an idyllic location at the mouth of Carlingford Lough in County Down, this south facing beach boasts the Mourne Mountains as a backdrop
Newcastle Beach – A sandy and pebble beach next to the small seaside resort town of Newcastle, The beach is about 2km, and the scenic views of the nearby mountains make this a popular destination for walkers. Murlough Beach and Murlough National Nature Reserve can be reached by walking in a northerly direction along the dunes.
Click here for details on caravan & camping sites in Down
Co. Derry
Benone Beach – With seven miles of sandy shoreline from Downhill to where it meets Magilligan Point, Benone Beach forms part of one of Ireland?s longest beaches and one of the best beaches in Northern Ireland. On a clear day visitors can take in the great views of Binevenagh Mountain whilst exploring the sand dunes.
Portstewart Strand – a long sandy beach perfect for sand castles, beach games, and picnicking. It stretches for two miles and is popular with walkers, surfers, horse-riders and bird watchers. The views from this beach are stunning, including the Mussenden Temple, high on one of the nearby cliffs. This beach is the start ? or end ? of the Causeway Coast Way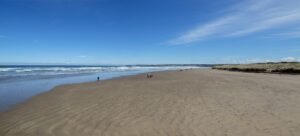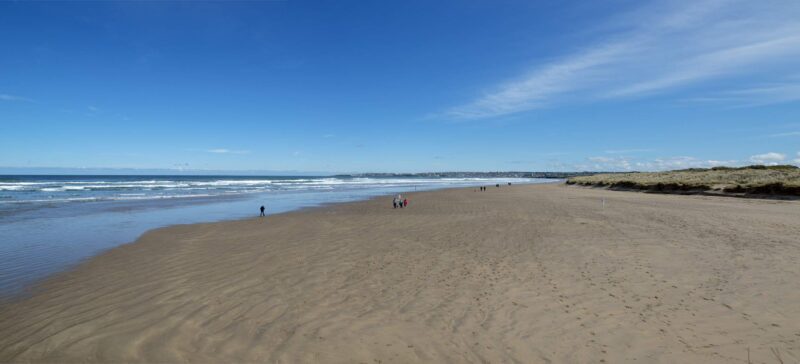 Co. Antrim
West Strand Beach has the busy harbour port of Portrush on one side and promenade on the other perfect for cycling or walking which hugs the coastline. With shops, amusements and restaurants nearby, the beach is a family favourite throughout the holidays.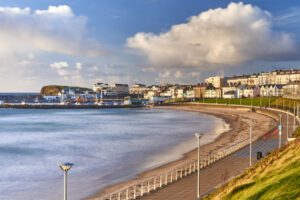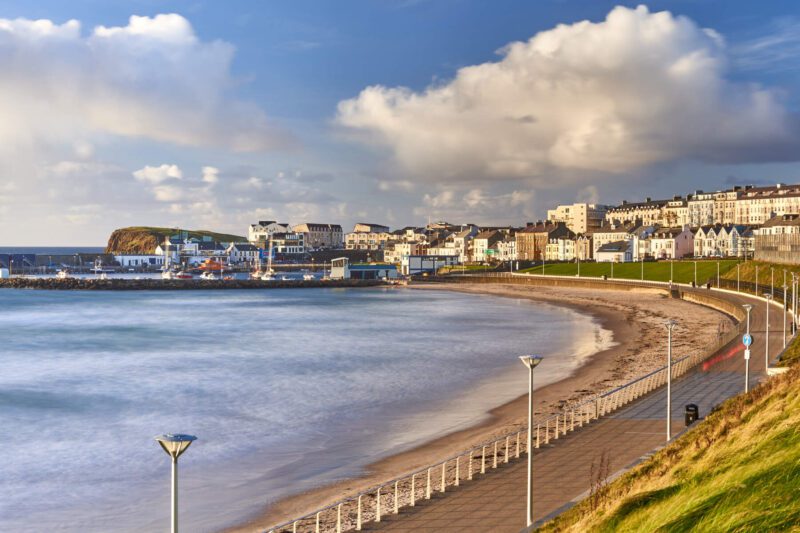 Click here for information on caravan & camping sites in Antrim
When you have spent a busy day out & about you can return to your caravan, motorhome or tent and enjoy a good night sleep in one of the many caravan & camping sites throughout Ireland. Many of the sites are located with direct access to a beach or only a short drive away. You can now access a list of sites that are ideal for beach holidays through the new Camping Ireland website
Camping Ireland has so much information to help you plan your caravan & camping trip away. The new website is very user-friendly and has a number of great features which makes it very easy to navigate. One of the new features is that you can now add filters to your selection. This will allow you to get information on parks that are specific to your needs.
You can now filter for sites as follows:
Camping type ? camping, glamping, mobile home hire, etc.
Holiday type ? beach holiday, countryside, family-friendly, dog friendly, etc.
Facilities ? beach nearby, playground, games room, shop, etc.
County
Region ? Wild Atlantic Way, Ireland?s Ancient East, Ireland?s Hidden Heartlands, Dublin or Northern Ireland
Also, many sites are now offering online booking which will help you secure your pitch at the click of a button.
Whatever you want Camping Ireland has something to suit everyone. Enjoy the independence and flexibility that camping in Ireland can offer in quality approved sites. We look forward to welcoming you to Ireland?s outdoor living