Yes, another Bank Holiday weekend is fast approaching. May Bank Holiday weekend over the years has for many been the start of the weekend and trips away in your caravan or motorhome. This year many people braved an Easter break but for campers the May weekend will be their first venture this year under the stars.
Again, you will be spoilt for choice on things to do and see over the weekend. Some cracking festivals and events taking place throughout the country. Most visitor attractions will have opened for the season and there will be plenty of opportunities to get out and about. Caravan & Camping sites will be enjoying a very busy few days with families taking trips away. For inspiration on places to pitch up for the night check out Camping Ireland featuring over 100 quality approved sites throughout Ireland with many now having the option of booking online.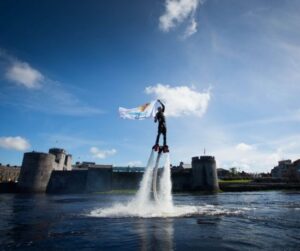 Limerick is the place to be this weekend. Families, foodies and fun runners will make their way to Limerick for the city?s premier summer festival, Riverfest Limerick. They have got a jam packed schedule of events lined up for this year's festival and will run from Friday 28th April to Monday 1st May. Highlights include Riverfest on the Shannon, BBQ on the Boardwalk, the?Riverfestival Village in Arthur?s Quay Park, Regeneron Great Limerick Run and a spectacular fireworks display among many other fantastic activities and events. Pitch up for a few nights at one of the nearby Limerick or Clare sites and take a trip into the Treaty City where you will find something for everyone to enjoy. Take time also to explore the new Limerick Greenway. The 40km Greenway path through captivating Limerick countryside, offers day-trippers and families the option to explore rural Limerick by cycling, running or walking. Following the old Limerick to Kerry railway line, the Greenway seamlessly links the West Limerick landscape with towns and villages located in some of the country?s most historic sites, offering its visitors a range of activities to do in Limerick. No visit to the Shannon region would be complete without a trip to the Cliffs of Moher and the Burren. Take a picnic and explore the area.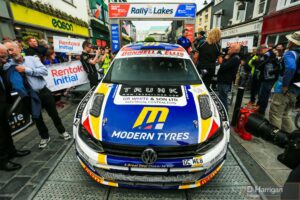 Take a trip to the Kingdom of Kerry and enjoy the spectacle of the Rally of the Lakes which takes place in Killarney 28th ? 30th April. You don?t have to be a rally or even a car enthusiast to enjoy the buzz around Kerry this weekend. The 3 day event kicks off on the Bank Holiday Friday evening with a ceremonial start ramp in the town centre, the rally proper kicks off on Saturday and concludes on Sunday evening, with crews tackling closed roads such as Molls Gap and Ballaghbeama pass. On the Ring of Kerry, the Cahersiveen Mountain Roots Festival takes place. There will be music events in local pubs and the outdoors right through the weekend with something for everyone to enjoy. And, if you plan to stay a few days longer in Kerry, check out Ireland's only dedicated Sci-Fi Film Festival taking place on the Skellig Coast where the iconic Skellig Islands were filmed as the centre of the Jedi Universe in the Star Wars film franchise.
The ?May the 4th Sci-Fi Film Festival' 2023 takes place at Portmagee on Valentia Island from May 4 to May 6 and will showcase an impressive line-up of independent science fiction films from all over the world, and feature a variety of activities. There is so much to do and see in Kerry. A visit to Killarney National Park is a must stretching across 10,000 acres it includes mountains, lakes, woodlands and waterfalls and is home to Muckross House & Gardens, Killarney House and Gardens, Ross Castle, Copper Mines, Innisfallen, Muckross Abbey, the Briceen and Old Weir Bridges. Kerry has a large selection of top quality caravan & camping sites, many along the great Wild Atlantic Way and in buzzying towns of Killarney and Tralee. You will be spoilt for choice.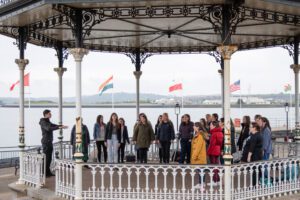 Cork being the largest county in Ireland has so much to see and do and also is home to a large selection of quality approved Caravan & Camping sites throughout the county of Cork. May Bank Holiday weekend will be a busy weekend in Cork with many events and activities taking place. The 68th Cork International Choral Festival will take place in Cork city from 26th to 30th April. Singers from all over the world will participate in gala performances, national and international trophy competitions, fringe concerts, workshops, and free public performances in more than 90 venues throughout Cork city and county. This is the oldest festival in Cork and one of Europe?s most prestigious choral events. Fun events also will spill onto the streets, cafes, restaurants and bars of Cork. Celebrating their 35th Anniversary the Kinsale 7s Rugby event returns to beautiful Kinsale on 29th & 30th April. Rugby players and supporters from around the world flock to Kinsale to participate in or witness the thrilling matches and the festive atmosphere of the tournament. It is also a festival of sport, music, and community. Local food vendors, bars, and musicians set up tents and stages around the pitch, creating a lively and welcoming atmosphere for players and spectators alike. In East Cork, The Ballycotton Alternative & Traditional Music Festival takes place featuring some Ireland's best Folk & Alternative Trad artists.
And, if you are spending a few days in West Cork take time to take in the Ballydehob Jazz Festival. The village hosts over 40 live music and dance performances that range from big name concerts to small workshops; from lively pub gigs to intimate side shows and a healthy dose of fringe attractions to compliment.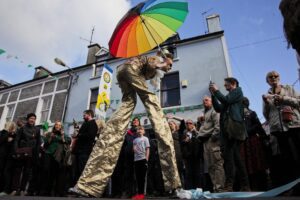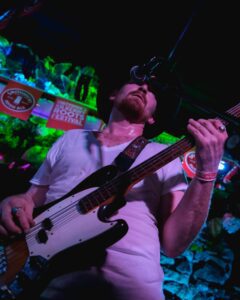 The Kilkenny Roots Festival celebrates its 25th Anniversary. Over the Bank Holiday weekend audiences will be able to sample a huge range of events in 30 plus venues, hosting over 40 Irish and international acts with over 90 ticketed and free shows from early afternoon until late into the night. The caravan & camping sites in Kilkenny are located a short distance from the city and would be an ideal place to pitch up for a few nights. When in Kilkenny don?t forget to take in Kilkenny Castle where you can explore the ancestral home of the Butler family with either a self guided visit or a guided tour. The visit of the Castle includes the dining room, Victorian nursery and the picture gallery with its hand painted hammer beam roof. All the family will love Castlecomer Discovery Park and Visitor Centre. Here you will find numerous activities and attractions including the tree top adventure walk, a 140 metre walk through the beautiful riverside trees 10 metres above ground level.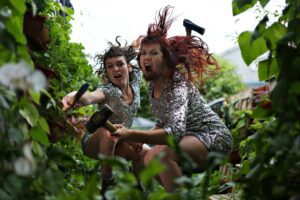 The Galway Theatre Festival runs from 28th April to 6th May and features 9 days of exciting theatre, circus, spectacle and storytelling, showcasing the vibrant performance culture of Ireland?s festival city. The streets of Galway City will be a hive of activity and a great place to visit if you are pitching up in Galway or Mayo. When in the area why not take a trip out to the Aran Islands with boats leaving regularly from Galway or Doolin or take a trip up to Westport and spend the day at Westport House and Pirate Adventure Centre. A great day out for all the family to enjoy.
These are just a few ideas to get you thinking about what to do and see over the Easter Holidays. So whether you are planning a few days away over the Easter weekend or a longer break during the holidays there is plenty to see and do as part of your caravan & camping holiday.
It is time to get planning and booking for your next trip away. Camping Ireland has so much information to help you plan your caravan & camping trip away. The new website is very user-friendly and has a number of great features which makes it very easy to navigate. One of the new features is that you can now add filters to your selection. This will allow you to get information on parks that are specific to your needs.
You can now filter for sites as follows:
Camping type ? camping, glamping, mobile home hire, etc.
Holiday type ? beach holiday, countryside, family-friendly, dog friendly, etc.
Facilities ? beach nearby, playground, games room, shop, etc.
County
Region ? Wild Atlantic Way, Ireland?s Ancient East, Ireland?s Hidden Heartlands, Dublin or Northern Ireland
Also, many sites are now offering online booking which will help you secure your pitch at the click of a button.
Whatever you want Camping Ireland has something to suit everyone. Enjoy the independence and flexibility that camping in Ireland can offer in quality approved sites. We look forward to welcoming you to Ireland?s outdoor living.