Camping Key Europe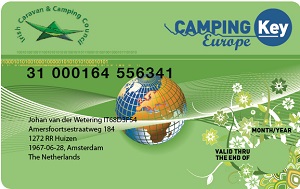 Price: ?16.00
Camping Key Europe is the most popular camping card in Europe. Each year, over one million users experience its added value. The card is accepted in 2,800 campsites throughout Europe. Save significantly on your stay, whether you?re camping or glamping. Its ID-replacing feature keeps your passport safe and secure and makes registering a breeze. In addition, you can rest assured, because with the included third party insurance nothing can go wrong.
To Pre-order 2024 card click here
Delivery time: When purchasing the card through our website, the delivery time is approximately 10 working days. Please allow plenty of time for delivery before you travel.
IMPORTANT NOTICE – All cards purchased are only valid until December 31st and CANNOT be extended. Should you be unable to use your card during the year of issue we will NOT be able to issue a refund.
Europe's most complete Camping Card is Camping Key Europe (CKE).
Camping Key Europe (CKE) is a new benefits/identity card and is recognised in camping sites and holiday parks across Europe.
The CKE card can be used in 20 European countries and over 2,800 camping sites.
Advantages:
Complete freedom:
CKE card serves as a valid ID at campsites across Europe
Your offers and discounts:
The CKE card entitles you to lots of great discounts and offers at attractions, visitor centre's, campsites, ferries, etc. throughout Ireland.

Your Card entitles you to connect to a large benefit program across Europe.
Accident and third-party insurance
Camping Key Europe offers you liability insurance if you are not otherwise insured. The insurance covers damage and accidents for the cardholder and his family (and up to 3 children under the age of 18).
The Card is valid for this calendar year mentioned on the validity sticker. The Camping Key Europe is valid in all European countries and obligatory in the Scandinavian countries. The Card must be signed in order to be valid.
Period of validity of Camping Key Europe card
The card is valid for one calendar year and will have a year label attached.
If you have a card from a previous year, you will need to buy a new card online.
For more information on Camping Key Europe and the benefits of the card click here
Terms and Conditions
The card is valid for a family, single people, married or cohabiting couples, single parent with children under 18, and for groups of a minimum of 5 and a maximum of 11 people (school classes, scouts, etc) travelling together. The group leader must be over 18.
The Camping Key Europe includes supplementary liability insurance which covers damage or injury to third parties which are not covered by the cardholder's personal liability insurance or where no insurance is held.
No refunds will be issued.