Ireland's Ancient East is a tranquil and beautiful land of rolling green hills, charming towns and quiet waters. Framed by the River Shannon and the Irish Sea you will discover 5,000 years of history. The region is filled with truly fascinating nuggets of history.
There are three unique areas: the Land of 5,000 Dawns, the Historic Heartlands and the Celtic Coast. We are going to break our suggestions on things to do, see, explore and experience into these areas.
The third part of our series covers the Celtic Coast stretching along the east coast of the country from Wicklow into Wexford and Waterford and the eastern area of Cork. There are many places to pitch up for a few nights and explore this fantastic area of the country offering safe overnight places to pitch your tent, hook up your caravan or park your motorhome. Click here for information on pitching up in Ireland?s Ancient East. Here are some of the top attractions to visit in the Celtic Coast of Ireland?s Ancient East.
Wicklow, the Garden of Ireland, has captivating history in beautiful settings. There are top caravan & camping spots to pitch up for a few days and explore this wonderful county. Here is a selection of top things to enjoy when staying in Wicklow.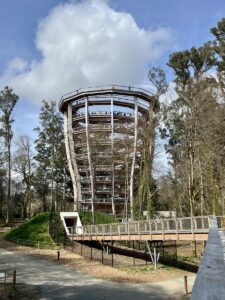 Avondale House and Forest Park is set in a magnificent forest park of over 500 acres near Rathdrum, County Wicklow with trees from all over the world available to explore and enjoy. It is also home to Beyond the Trees Avondale a 1.4km treetop walk. The treetop walk culminates at the spectacular Viewing Tower, 38m above the forest floor with panoramic 360 degree views of the Wicklow Mountains and the Vale of Avoca. You have the option to whizz back down the tower via the gigantic 90m spiral slide. It is fully accessible for wheelchair users and families with prams or a children?s buggy.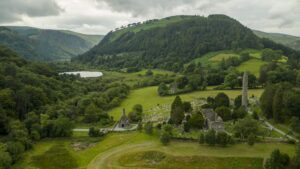 The ancient ruins of Glendalough include several churches and an impressive 30 metre high round tower. It is a beautiful place for walking, take a short stroll around the ruins or choose one of the challenging mountain hikes through the valley and around the scenic lakes. After, drop by the Glendalough Visitor Centre and see the exhibition and audiovisual shows, or opt for a guided tour.
Clara Lara Fun Park is a unique outdoor adventure park situated in Rathdrum, County Wicklow. In spectacular surroundings of oak trees and water are assault courses, water slides, boating lakes, kiddie-karts, tree houses, mini-golf and woodland playgrounds. Have a go on the breathtaking aqua shuttle, the biggest water slide in Ireland. There are riverside picnic areas and you can bring your own barbecues. There is also a junior playground.
No trip to Wicklow would be complete without a visit to Brittas Bay. Brittas Bay North is one of the most popular beaches in Wicklow. It has a 3.2km stretch of powdery sand and a sand dune system which is a designated area of significant interest. Brittas Bay South has a 5km stretch of beautiful white sand dunes and has won and maintained its Blue Flag status for many years. The beach here is ideal for bathing, sailing and walking.
Wexford is home to beautiful beaches, dramatic landscapes, and quaint towns, Explore fascinating history, admire breathtaking scenery on coastal drives and enjoy woodland walks. Pitch up for a few nights as one of the top caravan & camping sites in Wexford and explore this historic county.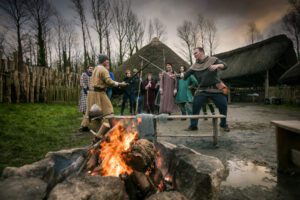 The Irish National Heritage Park takes visitors through 9,000 years of history. Learn about different historical periods on the heritage trails, depicting the first settlements in Ireland up to the arrival of the Normans in the 12th century. Choose from Pre-Historic Ireland, Early Christian Ireland or the Age of Invasion, and view replicas of prehistoric campsites, ringforts, crannogs and Viking houses. Experience what Ireland must have looked like to our Stone Age ancestors.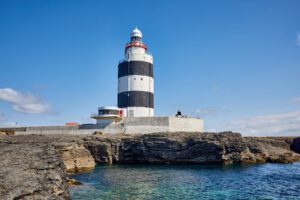 Hook Lighthouse has been voted the number one lighthouse in the world. Described by Lonely Planet Guide as a ?little plump lighthouse, the granddaddy of all lighthouses", it is is one of the oldest operational lighthouses in the world. Explore the tower, drop by the visitor centre, pop into the gift shop and relax with a coffee in the café.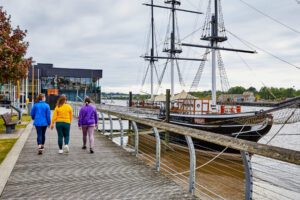 As you enter the inland port of New Ross on the River Barrow, you will immediately be drawn to the sight of the Tall Ship, Dunbrody. It is centered on an authentic reproduction of an 1840s emigrant vessel. On board the ship, your tour guide will reveal the realities of life on the notorious ?coffin ships?. Exit the ship onto the Savannah landing point one of the port destinations for Dunbrody and learn about life in Savannah in the 1800?s and finally exit through the Irish America Hall of Fame exhibition celebrating the success stories of the Irish in America, such as the Kennedy story.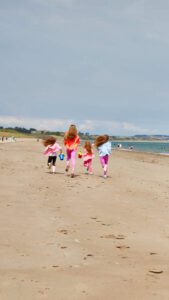 Wexford is famous for long golden beaches stretching for miles. Morriscastle Beach stretches for over 5km with a number of secluded coves. Curracloe Beach featured in the opening scenes of ?Saving Private Ryan?. The white sandy beach stretches for miles and is a particularly safe area for bathing.
Waterford city and county have something for everyone, from its vibrant city life to its rural charm and stunning coastline. With breathtaking landscapes, amazing history, and cultural experiences, there's so much to see and do in Waterford. Waterford also has a selection of great places to book in for a few days and explore the area.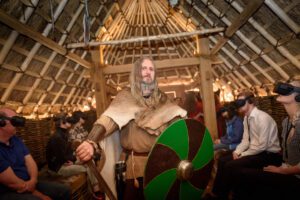 Waterford City is the oldest city in Ireland and is home to Discover King of the Vikings. This is a modern virtual reality experience which will let you get up close and personal with the Viking warlords who founded ?Veðrafjorðr? (Waterford). Set in a replica of a traditional Viking house, your adventure takes place in the atmospheric ruins of a medieval monastery in the heart of the bustling city. Meet the Viking comb-maker, listen to stories about life in Viking Waterford and don a special helmet (a 3D Oculus Rift headset) that transports you back 1100 years. Come face-to-face with the great heroic and legendary leader Reginald, founder of the city and King of Waterford and York.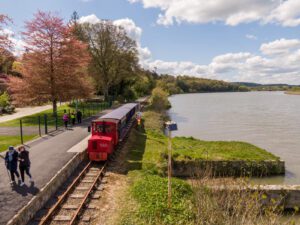 Waterford Suir Valley Railway brings rails golden age to life onboard a vintage train ride departing from Kilmeadan, County Waterford. When the whistle blows, set off on your journey through Waterford?s Suir Valley, an area only accessible by train and the Waterford Greenway. Travel at 16km per hour on 6.5km of track, returning the same way between the River Suir and Waterford Greenway on a journey lasting 40 minutes. Children are invited to take part in a treasure hunt before and during the train trip.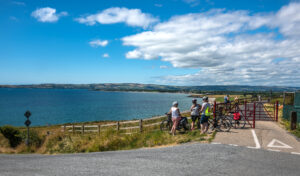 The Waterford Greenway Cycle Trail stretches for 46km from Waterford City through old railway lines and at the foothills of the Comeragh Mountains. The route will take you all the way to Dungarvan, a charming coastal town with a picturesque harbour, vibrant arts community and rich history stretching back to the 10th century. Walk part of the way, cycle in both directions or cycle one way and get the bus back to Waterford from Dungarvan. With plenty of pit-stops and trailside attractions along the way, exploring the 46km route really is a perfect short break.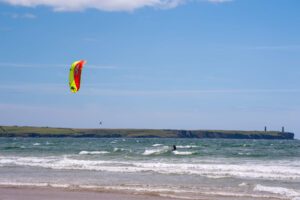 Waterford is also home to some beautiful blue flag beaches – Clonea Strand, Tramore and Admore.
Moving onto the Rebel County Cork, the biggest county in Ireland and divided between Ireland?s Ancient East and the Wild Atlantic Way. East Cork boasts a range of great locations to visit and some of the top visitor attractions in the country.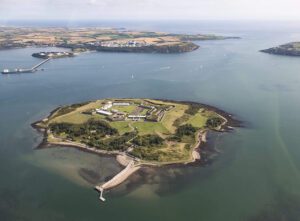 Spike Island located just 15 minutes ferry ride from the beautiful heritage town of Cobh in County Cork has a dark and fascinating past. Used as an Island prison, fortress, monastery and home, today visitors can meet captains and convicts and sinners and saints as you uncover 1300 years of Irish history. It has prison cells, deep tunnels, island walks and multiple museums, explore the 'Irish Alcatraz' via a guided tour or using the free map and app. Today the island has several museums and exhibitions on the social, military, penal and monastic past, and there are stunning views as you complete the 'Ring of Spike', a 5km walking trail with interpreted signage.
Whilst in Cobh you can also take in the Titanic Experience which is located in the original White Star Line Ticket Office in the centre of the town in what was the departure point for the final 123 passengers who boarded the Titanic.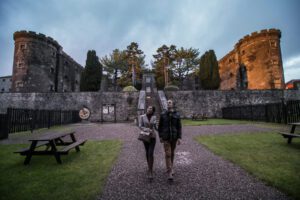 In Cork City you will find the Cork City Gaol where you will get an insight into what life was like in a 19th Century prison. Explore the grounds, wander the corridors and even get locked into a cell in the prison that Countess Markievicz called ?the most comfortable jail? she had ever been in. Learn the stories of some of the prisoners and staff that resided here like Mary McDonnell, who became a regular at Cork City Gaol with no less than 57 convictions! Or hear the amusing story of conman James Burns and how he nearly slipped arrest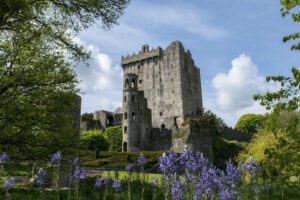 Located 8km from the city is the historic Blarney Castle & gardens. Here you will be able to kiss the famous Blarney Stone to get the gift of the gab, wander around unique rock formations and see the rare plants in the enchanting gardens. Incredible gardens surround Blarney Castle. Don?t forget to visit the Rock Close where you'll find an ancient druidic settlement and witch?s kitchen.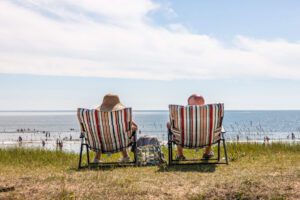 East Cork also has its own selection of top beaches. Youghal has a number of sandy beaches which stretch for miles ? Claycastle and Redbarn. Both are great for long walks and safe bathing areas. Garryvoe is located between Midleton and Youghal and is very popular for families and has a playground nearby.
So, the Celtic Coast of Ireland?s Ancient East is rich in heritage and culture. It is home to some of the top visitor attractions in the country and also boasts some of the top sandy beaches in Ireland. To find a caravan & camping park in Ireland?s Ancient East click here.
Camping Ireland has so much information to help you plan your caravan & camping trip away. Our website is very user-friendly and has a number of great features which makes it very easy to navigate. One of the new features is that you can now add filters to your selection. This will allow you to get information on parks that are specific to your needs.
You can now filter for sites as follows:
Camping type ? camping, glamping, mobile home hire, etc.
Holiday type ? beach holiday, countryside, family-friendly, dog friendly, etc.
Facilities ? beach nearby, playground, games room, shop, etc.
County
Region ? Wild Atlantic Way, Ireland?s Ancient East, Ireland?s Hidden Heartlands, Dublin or Northern Ireland
Also, many sites are now offering online booking which will help you secure your pitch at the click of a button.
Whatever you want Camping Ireland has something to suit everyone. Enjoy the independence and flexibility that camping in Ireland can offer in quality approved site